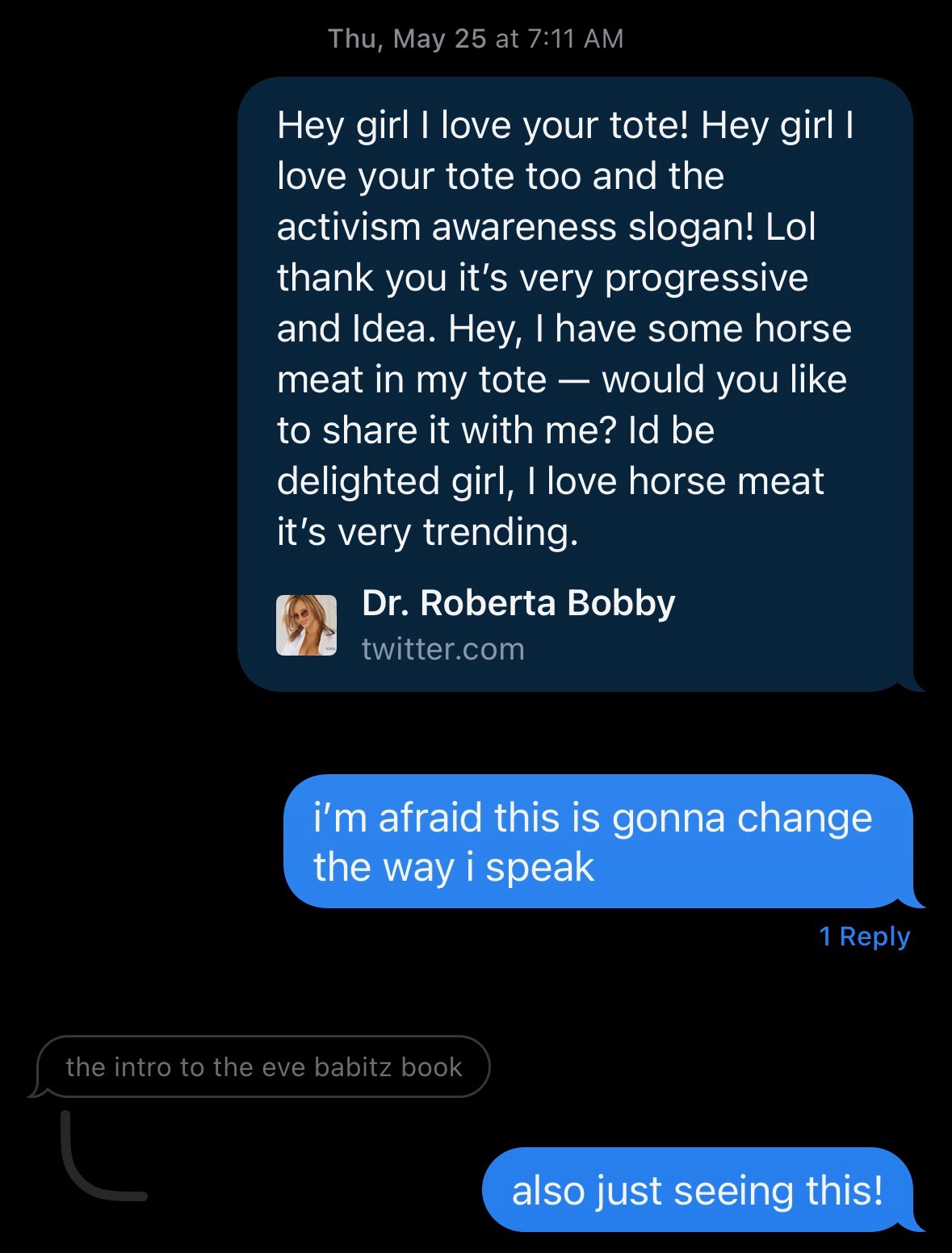 Davis and Taylor's iMessage chat
DIVA DOWN: Dr. Roberta Bobby Vanishes Without a Trace

In the wake of her disappearance, we look back and wonder, how can we triage a diva that is not only injured, but gone?

By Davis Dunham & taylor Stout

08.22.2023


Mere months after shaking the internet with her revolutionary language—and language style—Dr. Roberta Bobby has disappeared. Bobby first made waves in April 2023 with a now historic tweet: "Diva down….We need a fucking medic boots, we have to triage this injured diva." In the wake of her disappearance, we look back and wonder, how can we triage a diva that is not only injured, but gone?

The doctor's sudden disappearance underscores the precarity inherent to constructed online personas. Bobby was an anonymous performer behind a stock-image profile icon of a blonde woman in sunglasses. She never linked to pages outside the Twitter-based performance itself—making her difficult to trace. We innocently refreshed our feeds for months with the knowledge that somewhere along the line, Bobby would have something to say. The night of August 19th, however, hoping to encounter her words, we instead found a tombstone: screenshots shared by other users of a blank landing page bearing an impersonal error message where her words used to be.

This was by no means the doctor's first experience with trending online. Tweet after tweet entered the twenty-something vernacular. But, for the doctor, trending wasn't only an online phenomenon. In one of her historic tweets, she mocks online pseudo-intellectuals: "Hey girl I love your tote! [...] It's very trending." With this reorientation of a literal adjective to a metaphorical representation of a zeitgeist that seems to have removed the term "trending" from its centuries-long history and rebirthed it with an almost solely virtual meaning, Bobby made her followers face themselves and their peers in a mirror—is it worth mockery, tongue-in-cheek comments, and elbow jabs, to "trend?"

And really, that was the beauty of sharing Bobby's teachings with one another, absurd as they may sound to the untrained ear. From our separate spaces in ever-atomizing contemporary lives, we could reach out a hand to share a shard of the humanness that ties us together, some ineffable quality only glimpsed by following modern oversaturation to its natural breaking point, to the brink of language.

As internet culture spirals more and more towards a self-referential echo chamber, Bobby helped us all understand the humor in being what we are. Her tweets read like texts made from cobbled together suggestions at the top of your iPhone keyboard, simultaneously relatable and alien, like understanding someone from their tone, not their words. Our generation's technological adolescence is passing into adulthood—part of that is understanding yourself as a part of a system. With her tweets, Bobby showed us how we sound—both from outside our micro-system and inside the macro-system—and, by mocking us, made us proud.

Shortly after Dr. Roberta Bobby's disappearance, a smattering of tweets reported that she had resurfaced on Tumblr with screenshots to prove it. While she may not be wiped from the internet entirely, hers was a Twitter born and bred performance—she took up and twisted its lingo, and the platform's quick, text-based format lent itself to her comedic sensibilities. Many members of our generation, even those of us who spent our teen years on Tumblr and first encountered HTML when customizing our blogs' homepages, haven't substantially used the platform in years. We still cling to Twitter—sorry, "X"—even if out of nothing more than habit or addiction as it becomes less free in both culture and cost. And Bobby's brilliant refraction of its chaos was a light in its growing void.

However, the real pain comes not just from losing the doctor's future but also from losing her past. The sudden loss of her entire account, the archive of her idiosyncratic mind, raises questions about the internet's transient nature. As we reckon with the reality that a vital and growing body of work can be so quickly erased—as we also see with streamers removing content from their platforms—we remember that the spaces where we spend our days aren't spaces at all, and the bonds we form in them can be snapped in an instant. But no matter—the internet promises us that tomorrow there will be something else to make us smile, to send to our friends, to cross some seemingly interminable distance. But can the promise of a future really replace the past? We are left to ask: who will remember Dr. Roberta Bobby if not her devoted readers? In her aching absence, true Bobby stans must come together to do what only we can: carry on her legacy of simultaneous sense and nonsense, self deprecation and self love, relevance and irrelevance. We must continue to trend.

Accordingly, we here offer what we are able in order to preserve her Twitter legacy: screenshots of the texts where we shared our love for the Diva. Our own archive, consisting only of iMessage-generated previews of tweets that no longer appear on the site itself. Images of a field of ruins, or, perhaps, a mausoleum.