Exhibition photo by Naava Guaraca
Shows to See: Sept & Oct

A CURRENT FAVORITE COLLECTION OF FREE AND OPEN EXHIBITIONS LINING THE STREETS OF NEW YORK CITY.

By Naava guaraca
9.22.2021
September just might be my new favorite month. While we're in this weird pandemic alternate universe, at least one good thing has happened: a lot of really good exhibitions are open at galleries for free. I spent around three hours on a Saturday traipsing through the city making my rounds. Below are the shows I saw, the places my brain went, and also a collection of shows that I haven't yet made it to and instead have highly internet-vetted. (Online viewing rooms are…. strange.)


Carlo D'Anselmi: Wake Up
Sept 10 - Oct 9
Thierry Goldberg Gallery

I saw one of D'Anselmi's pieces in a group show at this same gallery a few months ago. This solo show puts his best components at the forefront. Figures stand shrouded in trees, surrounded by swooping birds flying in and out of the frames. Like blurred snapshots, they move. D'Anselmi's decision to depict what feels like the same figure each time astounds me. It makes for a sense of cohesion that feels eerie. Who is this person? Or, I should maybe say, people? What are they doing here?




Oscar Hou: A Sky-Licker Relation
Aug 26 - Sept 26
James Fuentes Gallery

The worst and best thing to ever happen to me is the fact that Oscar Hou is my age and making work as incredible as this. His surfaces are stunning, every brushstroke feels intentional and immediate. He doesn't layer as much as I typically like; instead, he treats each painting like a carefully constructed drawing. It's highly masterful. He builds these narratives that stack upon one another and create new meaning. It's crazy. He's so good.



Lois Dodd
Sept 9 - Oct 23
Alexandre Gallery (291 Grand St)

This collection of Lois Dodd paintings are quite literally just beautiful. Small moments of architectural bliss. She speaks of life in a simple way, and her work always feels grounding. This particular collection feels more northeast than some, full of white-tinted colors that echo the colder months. Lois Dodd's paintings feel so homey, so vibrant even with their light hand. She doesn't force paint where it isn't needed. It's refreshing for those of us who tend to overcompensate.





Julia Bland: Some Love Holds Water
Sept 7 - Oct 9
Derek Eller Gallery

Each of Julia Bland's textile pieces brings out the best in the medium. The intricacies look handmade and spun from visions the rest of us can only imagine. Textiles are so fun because they can mimic the detailedness of other two-dimensional work but they also come with texture. Bland's work is huge and towers over you. But her favorite piece of mine had to be this quiet killer, hidden behind the gallery's front desk:




Joseph Olisaemeka Wilson: Jaga-Jaga
Sept 8 - TBD
Freedom Gallery

To see this many of Joseph's pieces in one place feels like a godsend. Over the past few years he's spent time looking, reading, thinking, drawing, and building up a repertoire of imagery and ideology that he uses in his work. The recurring themes are hidden in plain sight: power lines stretch through fields, animals fight and chew one another up, figures are shrouded in heavy shawls. Wilson has created a world where terror and delight exist in perfect harmony. He's one of those artists who'll one day have a retrospective where they run out of wall space.



Philip Guston: 1969-1979
Sept 10 - Oct 30
Hauser & Wirth
To see this work now after
all that happened last year
felt a little like a fever dream. Hauser and Wirth feels so unquestionably like a museum, creating an experience that feels reminiscent of what the original retrospective was supposed to be. It's like a small glimpse into the world of Guston's work: two rooms, the first with his Klan paintings, the second with twelve paintings that center around a theme of growing intensity and political turmoil.
TLDR for anyone who doesn't religiously read Art Forum: Guston has made several paintings of KKK members engaging in very mundane acts. The show was originally scheduled to open in June of 2020 at the National Gallery in DC. As quoted in the above article, the postponement was slated "until a time at which we think that the powerful message of social and racial justice that is at the center of Philip Guston's work can be more clearly interpreted." I left H&W feeling weird, unsure, contemplative. I'm still not entirely sure how I felt about it, and getting to see these pieces in real life was unnerving.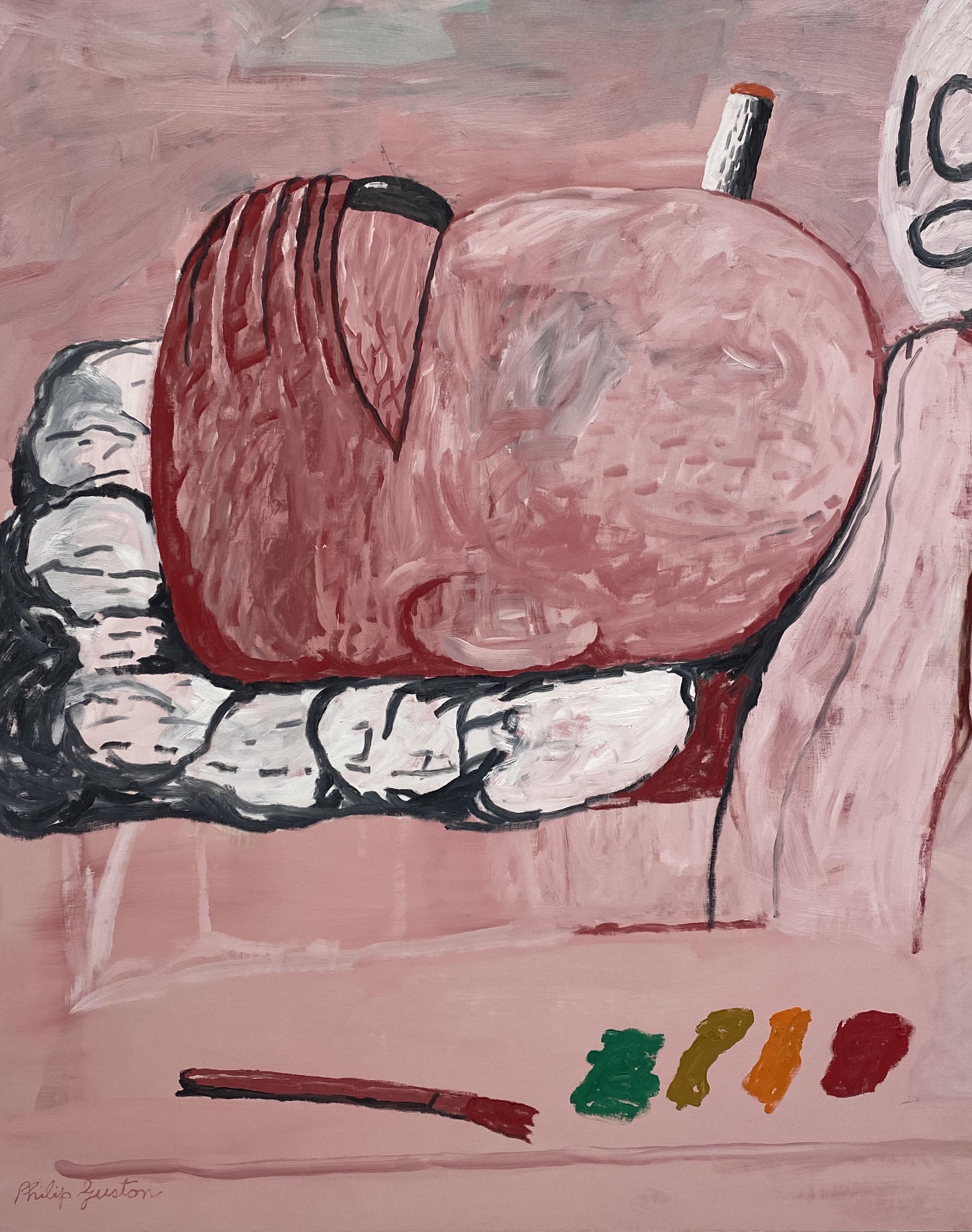 Anthony Cudahy: Coral Room
Sept 10 - Oct 30
Hales Gallery
Anthony Cudahy is my favorite contemporary painter. This is a fact in which I feel so confident, so sure. Coral Room is a show like none other. Ten paintings, seven drawings, each so vibrant and full of life it's almost unreal. Cudahy is masterfully compiling a set of skills with which he builds each painting. I saw his first solo show
Burn Across the Breeze
last winter, and to see Coral Room now feels like blinking and seeing a teenager where you once knew a child. His color palettes are skillfully crafted, blending complementaries and tertiaries and combinations that shouldn't work but somehow do (I could go on about color theory for a while here).
Cudahy is partaking in a conversation a lot of contemporary painters are also having right now. Everyone is concerned about the human condition, about what it means to be a person in relation to one's surroundings. It's a feeling that falls as a heavier weight than usual lately. These paintings feel like solace.
Alice Neel: The Early Years
Sept 9 - Oct 16
David Zwirner 20th ST
Alice Neel continues to speak for herself. This show is a collection of her earlier work before she was the renowned painter we know from
The Met
. It's a lovely collection of pieces; expansive to say the least. Zwirner's 20th street location has four gallery rooms on the ground floor, making for a very standard viewing experience. My favorite part was the littered quotes across the wall that connect to the time in which the paintings were made. I'm a sucker for exhibitions closing the gap between painting and language.



Some other shows that are currently open that I didn't get a chance to see in this round. I'll be seeing all of these at some point in the near future once this article is live and out there:

Jenna Gribbon: Uscapes
Sept 9 - Oct 30
Frederick's and Freiser

Lisa Yuskavage: New Paintings
Sept 9 - Oct 23
David Zwirner 19th ST

Alina Perez: No One Recognizes You as a Puddle
Sept 1 - Oct 9
Deli Gallery

Dissolving Borders II
Sept 11 - Oct 16
ChaShaMa (340 E 64 Street)

Devan Shimoyama: DIAMOND
Sept 9 - Oct 16
De Buck Gallery

Emma Webster: Green Iscariot
Sept 8 - Oct 16
Alexander Berggruen Gallery