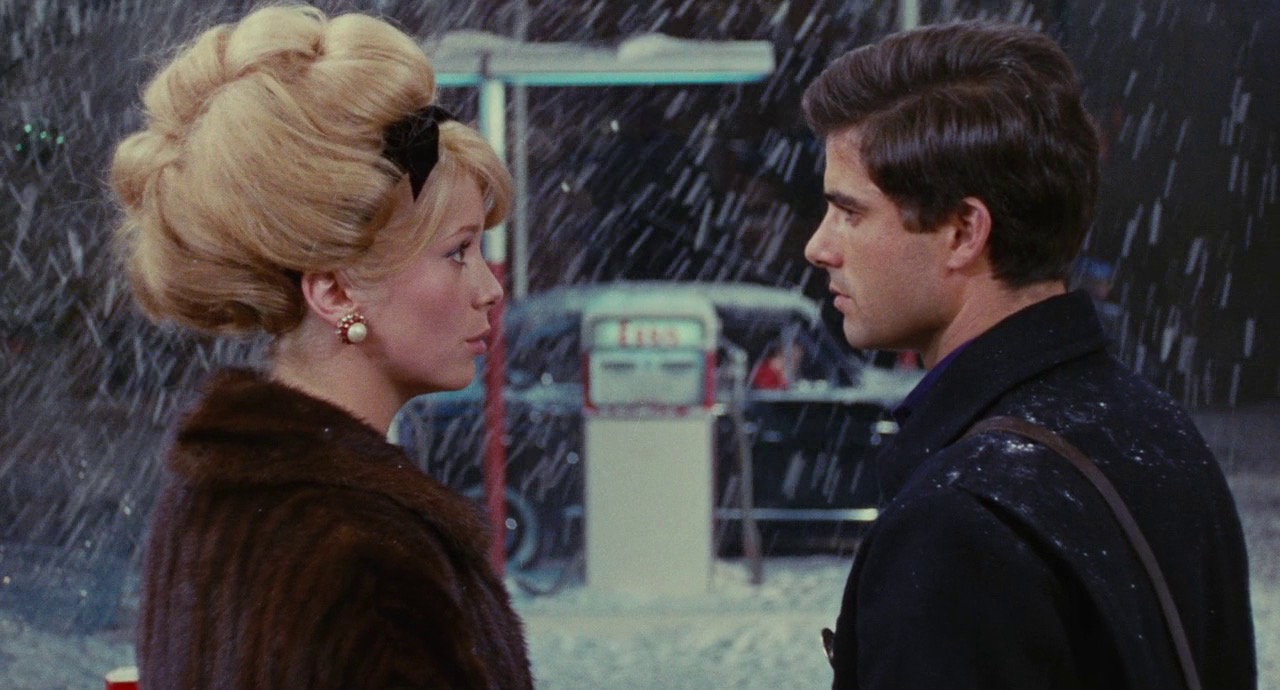 The Umbrellas of Cherbourg
(1964)
What We're Listening To: Love & Heartbreak

This playlist is for those who received a beautiful bouquet and those who would like to stomp on one until the roses stain their rug.

By Lily Crandall & The Music Team
2.2.2022
Happy early Valentine's Day, COPY reader. This playlist is designed for both those in love and those experiencing heartbreak, for those who received a beautiful bouquet and for those who would like to stomp on one until the roses stain their rug blood red. Whatever your sitch is, here are some songs to listen to while you are getting ready for a très romantique dinner out on the town or a night in with the roommates spent watching the critically acclaimed 2010 film
Valentine's Day
after a slightly devastating breakup.
Check out the playlist here
.
Taylor
"Strangers," The Kinks

I once told somebody that this was my favorite love song and they said, "That's a love song?" It is to me. It's about the connections we have with the people who accompany us through life. Even if we can never completely know someone else, we can still be there for each other. One of my favorite lyrics—and feelings—ever: "This love of life makes me weak at my knees."


"Golden Age," Ethel Cain


The droning, elegiac buildup of "Golden Age" feels like an old house caving in or insects humming incessantly on a too-humid summer night. It's loud and consuming enough to match your sharpest feelings.
Miguel
"Be My Baby," The Ronettes


This wonderfully overwhelming number belongs on every wedding mix. The production here builds wonderfully with a host of percussion, backup vocals, and strings that pair wonderfully with the yearning lyrics. Rest in peace, Ronnie.


"One More Night," Phil Collins


We've all had those relationships where we would want just one more night. Phil is known for his sultry romantic ballads, but when I hear him plead, my heart breaks a bit for him.
Lily
"Anyone Else But You," The Moldy Peaches


Try to tell me that, "Here is the church and here is the steeple / We sure are cute for two ugly people," is not the most romantic thing you have ever heard.


"good 4 u," Olivia Rodrigo


Are you angry and heartbroken but still wanting to dance?
Adam
"He Needs Me," Shelley Duvall


Probably most well known for its use in the climax sequence of Paul Thomas Anderson's Punch-Drunk Love, this song was originally made for the 1980 Popeye movie and repurposed by Anderson as the perfect soundtrack to finding your love. You hear it and you're floating on a cloud. It's a slow waltz towards sweetness.


"Ivy," Frank Ocean


Not to say something that has been said thousands of times, but if you're going through it, you go listen to this album. I don't know a single one of my friends who hasn't turned to this album at least once when times were hard. "Ivy" is one of the more heartbreaking of the bunch and it's the second track, so it's usually right at the start of a good cry, not like later on in the album when you start to pull together a bit more. The frustration at the end is much needed, and I've felt that studio thrashing at the finish many times.
Cath
TIED (sorry I clearly love love? idk)
"In Spite of Ourselves," John Prine & Iris DeMent


"We're gonna spite our noses right off of our faces / There won't be nothin' but big old hearts dancin' in our eyes." Love can be all sorts of things, but this song taught me that it can look crude, horny, and grotesque but above all, still be unexpectedly tender. I always manage, after every listen, to truly believe these two lovers will find a way despite it all.


"I'll Come Running," Brian Eno


The complete opposite of "In Spite of Ourselves," I love that the first thing Eno can think of when his love is finally pulled through his door is tying their shoe. Loving in it's delivery, it really makes me stop and smile every time I listen.


"Gonna Get Along Without You Now," Skeeter Davis


Imagine getting dolled up and hitting the town after getting your heart broken, grooving to this. Better yet, imagine being the dude who hurt miss Skeeter Davis.
Emory
"Til The End of Days," Bermuda Triangle Band


As a die-hard atheist, I find comfort in this song. In it, spirituality and God take the form of the person who sleeps next to you, who touches you, who's in it for the long haul. Now that sounds pretty heavenly.


"Jealous," Labrinth


I sobbed to this song in high school about 70 times when my seven-month, on-and-off, kind-of-sort-of boyfriend and I broke up. So just imagine what would happen if you listened to it after a real relationship.
Molly
"Suga Honey Iced Tea," Kelis


This is easily one of my top five favorite love songs of all time. It's fun, flirty, and oh-so-sweet. It will never fail to put you in a good mood!
"Since I left You," The Avalanches

This song is a great reminder that there is so much internal beauty and light that comes from breakups. It embodies the energy of a new beginning that arises with letting go of anything that is doing you more harm than good. Perfect for your "new year, new me" starterpack.