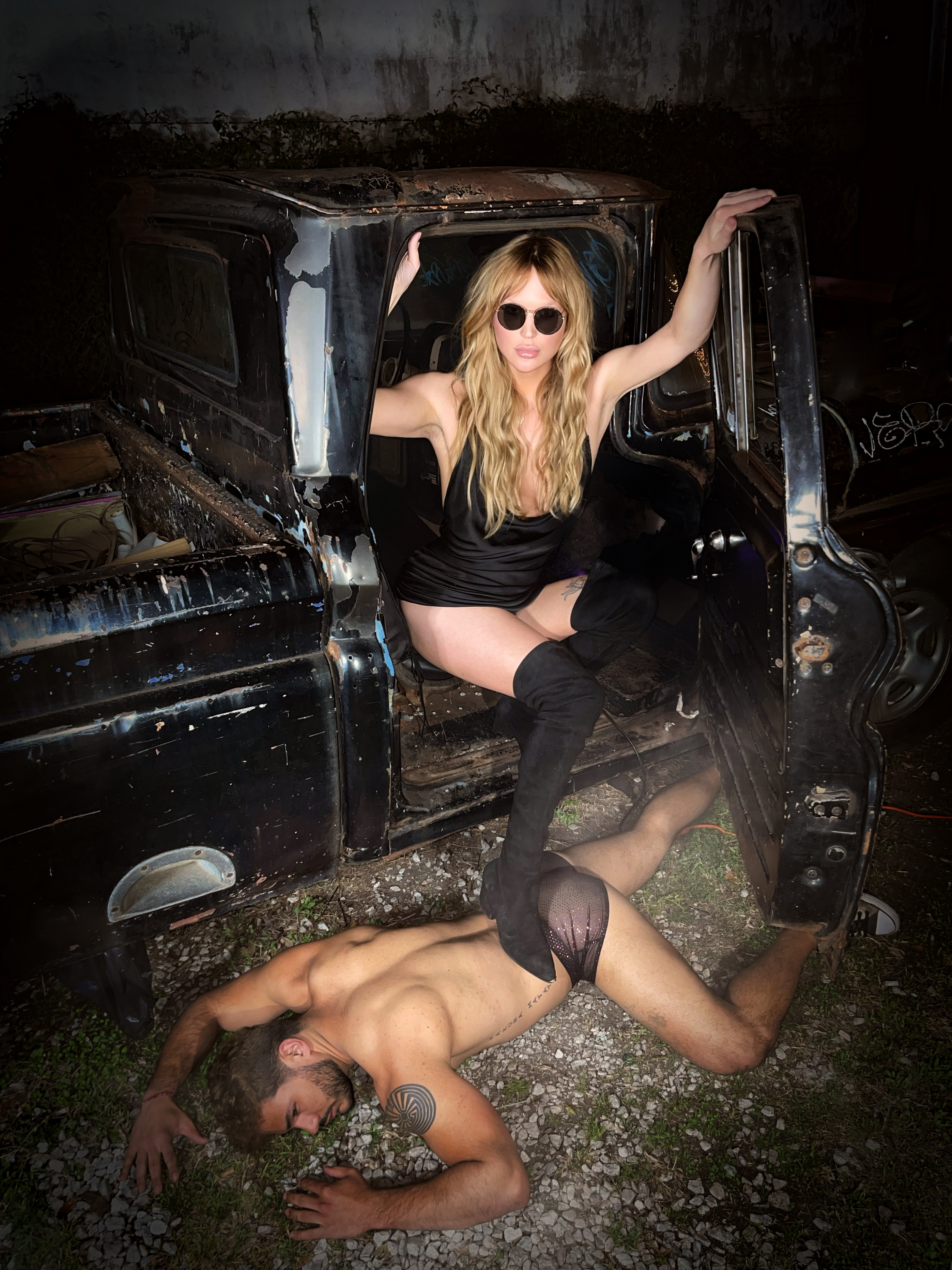 Nicole's Revenge


It's About Time for Nicole's Revenge

EXAMINING THE ART OF a NEW ORLEANS-BASED PERFOMER: GARLIC JUNIOR AKA VODKA SODA AKA NICOLE'S REVENGE

By Davis Dunham

05.17.2023


Nicole—who performs as Nicole's Revenge (mainly)—arrived at our agreed meeting point, a coffee shop in Greenpoint, fashionably late. She wore a pleather jacket—somehow pulling it off better than most people pull off real leather—and geometric statement sunglasses, giving off the vibe that every question you ask her has a long, involved, sometimes digressive, and always interesting answer (which proved to be true). As we walked up Lorimer Street towards McCarren Park, she told me about growing up in Michigan, visiting New York for the first time during Pride weekend in the mid 2010s, and how catalytic converters are being stolen in New Orleans at an alarming rate.

Back in New Orleans, where she lives, Nicole spends most of her time performing at Choke Hole, a neon 80s wrestling-themed party she described as "very campy and theater, but also sexy and slutty and violent"—immediately indicating to me that, at all costs, I needed to know more. When she's not wrestling or making one of her frequent trips to New York, Nicole writes and records music on her computer. She recently released her first EP, Ketamine Truck. The EP, made up of six songs that span a total of 19 minutes, paints Nicole as a discerning, talented voice guarded by a layer of humor and flippancy. She was excited to say new music is in the works.




Interviewer



There isn't really another interview with you, so a lot of the basic biographical information isn't covered. I was wondering, can you tell me your background? Background on your career, how long you've been making music, who your inspirations are, etc.




Nicole



I grew up in Michigan. I started making music in Michigan when I was like, I don't know, 14 or 15. Then, when I was 21, I moved to New Orleans. I had been doing drag—sort of. I wasn't getting booked to do drag, I was just dressing up and going out, occasionally doing amateur night or whatever. The drag thing started off kind of the same way as my music, with me being like, "I'll just do it for free, or for tips, or for whatever." That turned into doing it more seriously, having monthly parties, doing bigger things. I always kind of squeezed performing my original music into that—parties, drag, etc.—because before that I was making experimental electronic stuff. In high school, I would make really silly stuff with my friends. I would just write weird stuff to be funny. The music is transitioning out of being as funny, but the "funny" is still my little safety thing where I'm like, "It has to be kind of funny."




Interviewer



What kind of funny stuff would you write with your friends in high school?




Nicole



In high school, I was listening to Peaches and Jeffree Starr and all this obnoxiously sexual stuff. I was not having sex or doing anything, but we would write—like before Lonely Island, you know what I mean—sexual innuendo songs. None of us had ever had sex, it was all totally made up. I had written this song with my friend called "Love Train" that was about a train going into a tunnel. Then, I think we had a song called "Pound It." It was just all this weird—wait, I wrote this one with my friend, one really sincere, radio-type song with an analogy about coming out of the storm. Every lyric was something like "I capsized," or about a boat or water. It was out of control, but, once again, two teenagers who had never been in a relationship or done anything. They were just mimicking the idea of a song. I have the songs somewhere, or at least my friends do.

But yeah, I've lived in New Orleans for the past 10 years. I've been doing party-type stuff and nightlife stuff for at least seven years, maybe. It got to the point where I figured out how to officially release music through a service that puts it on all the apps. So then, finally, all this random stuff I had been doing got put out in that EP (Ketamine Truck). I was like "Oh, it's an official thing." At drag shows, or at Choke Hole, the wrestling show, I'd do a half-time show where I'd perform a few songs. I was like, "I'm a half-time performer." Suddenly, I was doing a full set—not as a drag queen but as a musician.


Interviewer


Did you think of it as a portfolio in that way? As in it became easy to show the work you would do if you got booked.



Nicole


I haven't really had to do that because I'm always getting booked through people that already know me. I thought about it before I came to New York this time—maybe I should email venues and be like, "Hey, I'm this performer from New Orleans, here's my music, do you have anything for me? Can you put me on as an opener or something?" I didn't, but I probably could have.



Interviewer


Where did the name Nicole's Revenge come from?



Nicole


After COVID, all the parties had left New Orleans. I was pissed about it, and my friend suggested I throw my own party and that it should be called Nicole's Revenge because I was, like, frequently bitching. That first EP as Nicole's Revenge, that was what made it feel like not just some messy, weird thing but a real thing.

Before I was Nicole's Revenge I was Garlic Junior.



Interviewer


Was there a Garlic Senior?



Nicole


No, Garlic Junior came from Dragonball Z, I just didn't know it. I saw a Tumblr post where someone had a fish named Garlic Junior. At a party, someone asked what my name was and I thought, "Oh no, what do I do?" So I said Garlic Junior. After that, straight guys would be at our shows saying, "Oh I love the Dragonball Z reference"—I'd be like, "What the fuck are you talking about? I don't watch that." Then, for a minute—when I put my music out the first time—I was Vodka Soda.



Interviewer


What kind of artists do you listen to? Who do you like—or not like, if you feel like getting messy.



Nicole


When I was little, I would listen to Britney Spears and Christina Aguilera and the Spice Girls. And then I had my teen era when I only listened to rock bands, emo music, and punk music. So I have all these unreleased songs, a lot of them punk or rock-sounding. But I don't have real instruments—it was me and my computer generating synths that sound like guitars. After that, I swung hard back into pop, dance, and electronic. At this point, I don't know. It's changed so much from before, when I would discover new music on blogs and had CDs and a collection of music. So much of my inspiration came from Myspace times. Now it's such a mess—I've probably listened to "Maybe You're the Problem" by Ava Max every day for the past year and a half.



Interviewer


Do you have any favorite songs on Ketamine Truck, and do you have different favorites in terms of listening versus performing? A throughline for a lot of my questions is the way performing affects you and the music, how it works in conjunction with writing and recording—two aspects of the same experience.



Nicole


The last few times I've performed, they've asked me to do three songs. So, to me, my best song is "Line in the Sand." That's the bop, that's the one—I really nailed this one. So, I like to do that one last when I'm performing. My favorite for a while was "Miami" because it was the most recent one where, production-wise, it sounded exactly how I wanted it to sound. Then, for the intro, everyone loves "Titties Done"—it's a fan favorite. Probably because, long before music got so short, that one's incredibly short. There's not really a verse or a chorus, you know what I mean.



Interviewer


My favorite is "Beat My Meat and Die."



Nicole


So, okay, "Beat My Meat and Die" was like that one. I feel like it has the most lyrics in it. I feel like it flows really well. But, it was the song I had the most trouble producing and recording. I spent way longer on that one than the other songs. I have a tendency to, if something's not going well, just abandon stuff. So, at a certain point, I decided it was good enough. That was supposed to be my second-half comedown-type song. You know, it's slower-ish, and when I perform at a drag show, I don't throw one of those in. It's like, give them the three high-energy ones and be done.

I've never worked with someone else or recorded with someone else. When I listen to "Beat My Meat and Die," I don't know if it holds up sonically as much as the others. It doesn't sound to me as professional or well done.



Interviewer


Interesting. I would've thought, not the opposite, but it stuck out to me as having more of a melody to it—a melodic throughline.



Nicole


It's more radio-ish. I don't know. Maybe I'm being hard on myself. I just don't feel like I spent as much time on the vocals because I spent so much time fussing over all the little things going on with the music. I probably should've given it one more, one more…I don't know.



Interviewer


You say you've never worked with anybody? You do it all yourself?



Nicole


Any time I've tried to work with someone, it's always been with some straight guy who acts like it's gonna go somewhere. And then, once we're actually doing it, I don't like what they're doing or it just doesn't work. All these songs are so horny. I don't want to make music with some straight guy. I always jokingly—but not jokingly—say to my friends, "I don't know how you work creatively with someone who you aren't having sex with." You know what I mean? It's just never worked out. I have a friend I'll send the songs to once they're done, and he'll bump things up and make them louder. I guess that's technically—what would that be, mixing and mastering? But that's the extent of my collaboration. It's not that I don't want to, but I might just not be good at collaborating. I've considered it's not that everyone I've worked with doesn't vibe with me and that I'm just not good at collaborating with people.



Interviewer


Do you picture a Nicole's Revenge fan being based in you as a person—as in you performing live—or in listening to your music through streaming?



Nicole


When I first started going out, it was always very much playing a persona. I've chilled out a bit, but I still think of myself as a Paris Hilton or Lindsay Lohan more than a Lady Gaga, you know? The music to me is an extension of the partying and being out and socializing. Like I said, sometimes, I will perform just because I'm out. And it's simple enough to do it. I definitely think of it as a live thing.



Interviewer


You were talking about this before, so I don't know if you have much more to say, but what history do you have with performing outside of your music? You said you did drag, and I would love to hear more about Choke Hole.



Nicole


Me and two other people did monthly drag shows. We were the core cast, and we would book other drag queens. Towards the end, it started getting, like, very theater-ish. We were getting too into it—which is fine. I think people liked it. Every party would either be a play on a party or a type of party. I think our second one was a New Year's Eve party, but we did it in March. It was just like, "This is our New Year's party." And then we started picking at the New Orleans parties. We got in trouble for the New Year's Eve party because we called it "Eve." There were people who would throw a party–Eve–every New Year's Eve. It was like ee-vee-ee—the second E was backwards—and we just switched it around. We did a New Orleans nightlife awards party as if it was an award show, but it was just a party. It was weird stuff like that. We eventually had one—the last one—that was like a frat party. We had beer pong at the bar. And it would always have a drag storyline to go along with it. Anyways, the shows moved away from being like a party and became more like a play.

The last one we did was when Glow had come out, that 80s women's wrestling show. So, we did a wrestling show, a party that had wrestling at a bar. And we did it basically on yoga mats. It was really small, but everyone loved it. I was like, "I don't want to do a wrestling show!" so I hosted it to not wrestle. Then everyone loved it and I was like, "Oh no, we're going to have to do all these wrestling shows now!" Our friend who did big warehouse parties would book us to do the performance for these parties. So he put together the first Choke Hole on this really dangerous, not at all professional wrestling ring made out of found materials. It was in this big warehouse packed with people. It's become more and more legit over time.

I sat out for a while. When I came back, one of the main girls had torn her ACL, so she had taken over hosting. So I had to wrestle! Which I thought I was going to hate. And it turns out I actually really love wrestling.


Interviewer


Is it choreographed?



Nicole


Yes, it's all choreographed. It's funny though, because a lot of times we're bringing people in from out of town and we only have the ring set up a day, maybe two, in advance. Most of the matches get put together in like two hours. We just block out time and get in there and fuck around until we've created a storyline. Generally, our first show is like a dress rehearsal. I perform my own music as a crossover.



Interviewer


What's a typical day like for Nicole's Revenge?



Nicole


I don't know. I swing from being really focused on wellness and being productive—like I'm going to make green juice every day and go for a jog—to going out every night and sleeping all day. There's this sense that going out furthers what I'm doing in terms of nightlife, but I don't have a job job. I do my stuff as opportunities arise. I don't normally pay to get into places and I don't usually pay for drinks, so there's not a voice in my head saying, "You've got to cut this out," you know what I mean? I am this lifestyle. So, it depends. It's hard to frame it. I have a bunch of stray cats that I feed, and I lay in my backyard and tan and work on music. I work on music pretty much every day, but I wish I had more to show for it. I don't finish stuff a lot.



Interviewer


Finishing things is the hard part.



Nicole


I can do dozens of loops—loops I've produced—that sound great and have nothing to do with them. I can put together a full song musically and then—I think it's called top writing, where you're supposed to write the lyrics over. I'm really bad at doing that. So, all the songs on my EP are my good songs, like fully orchestrated in my head before I go to the computer and put it together. I hear the whole thing and go do it. The last time I felt like that was "Line in the Sand" because it was so on the nose with exactly what I wanted to say. I sat down recently—because everyone likes "Titties Done"—to try to do like a formula, make a song that sounds similar to "Titties Done," that has the same vibe. I sort of did it, but, you know, what's the point? I'm trying to stay away from just doing songs about sex. I talked to someone, and he was like, "If that's what works, that's fine." He said every Megan Thee Stallion song is the same song, too.

Earlier, I said a lot of my earlier songs were about sex when I hadn't had sex. Now, the newer ones are about sex since I have had sex.



Interviewer


Do you notice a difference in the songs?



Nicole


Well, I had a relentless hoe phase for two years where I was at the same time desperately seeking a relationship but also realizing that I could just have sex with anyone I wanted as much as I wanted. Which was a weird thing, a weird confusion. Some of the songs are about specific people, but the music is also about my experience being trans and hooking up with guys off of the apps. I am generally either being way too slutty or being like "never again."



Interviewer


It sounds like there's a lot of being two things at once. I hear this in the songs, too.



Nicole


Before I transitioned, I thought being trans means no longer being a boy and that I would become a girl. And really, it's just landed me in this middle, kind of inevitably. And so I feel like there's this weird stuff, like I'm just in the middle of two things. Most of the trans girls I know have been banned from Tinder just for being trans on Tinder. And I've been banned on Grindr. I have a Grindr phone—which really should be a song, "Grindr Phone"—because I can't use Grindr on my regular phone. I have a burner phone that I use just for Grindr.



Interviewer


When you're writing music, is it—whether intentionally or unintentionally—processing the "two things at once" thing, or the being in the middle that we're talking about?



Nicole


Yeah. I mean, a lot of my earlier stuff was a lot weirder. It was making light of something that was severely traumatic. Less so now. I feel like I have a different sound now. I'm a bit more put together.