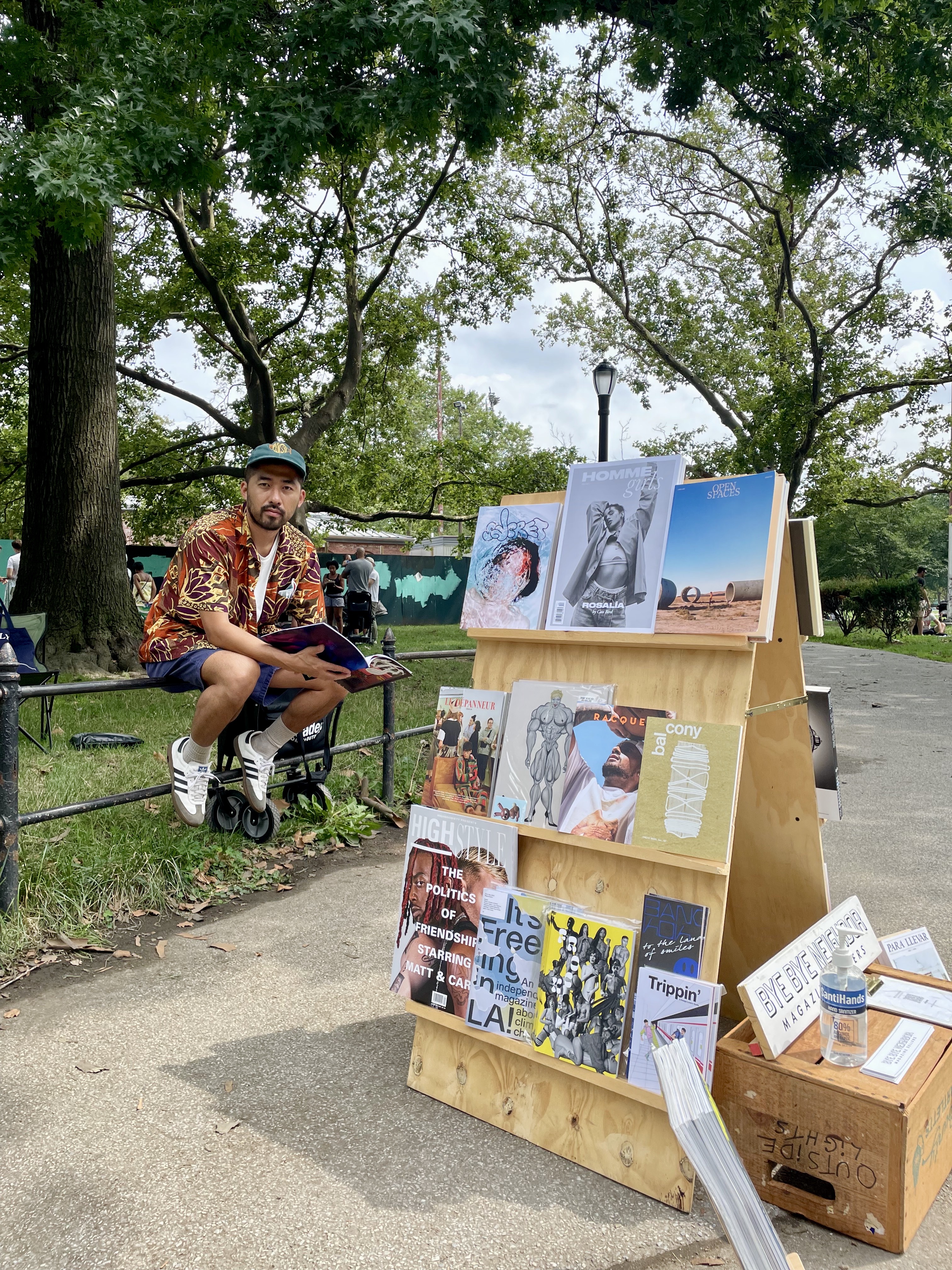 A Conversation
with Mitsu Kawano
Jack Petersen sits down with friend, co-worker and NY fixture, Mitsu Kawano, Founder of Bye Bye Neighbor Magazine Sellers.

Whether you've gone celebrity-cruising at McNally Jackson books in SoHo, sat in most any park in Brooklyn or downtown Manhattan, or walked across the Williamsburg Bridge, you've more than likely spotted Mitsu Kawano, unassuming despite his bleached hair, noticeable kindness, and uncommonly-good sartorial choices. This is a testament to his prolificacy, which, to those in the know, can quickly veer into omniscience. In his time in New York, he's become a bit of a fixture in the literary world, unsurprisingly showing up in Civilization magazine's matrix of important downtowners in an issue Kawano hastily restocked during its run early this year. More than a few times, I've described my—full disclosure—friend and coworker to people and gotten back some iteration of, Haven't I seen him, like, everywhere?
Kawano, who grew up in Miyazaki Prefecture and began his career in magazines in Tokyo, moved to New York in 2014, and has since become the store-wide magazine buyer and curator for McNally. In 2019, he launched
Bye Bye Neighbor
, an online magazine store that curates a selection of literary journals, fashion magazines, fanzines, and other small-production publications. During the pandemic, Kawano took his business outside, setting up a little wooden stand in whatever park seems hottest every weekend day, displaying his pick of magazines, unfolding a beach chair, and throwing back Modelos with friends while passers-by inevitably pause to see what's good.
The first time I visited Mitsu on one of his park runs, Biden had just won the presidency, McCarren Park was full of people, the sun had just set, and Mitsu had been chatting with friends for hours. A man in a bland Hawaiian shirt approached our group and said, without affect, Yay, we did it. Does anyone have a lighter? We all laughed, someone handed over the requested Bic, and few members of Mitsu's posse went on a bodega run while Kawano packed up his remaining magazines. It hadn't been an epic day for the shop, but he was in the best of moods. This is Kawano's infectious ethos:
Bye Bye Neighbor
is a more caring, more forgiving, more patient way of getting into the intimidating world of magazines. Kawano is a kind and humble guide, and I was excited to get to talk to him, albeit virtually, about Bye Bye Neighbor and what the past few years in magazines have been like.
Before working in books in magazines, I know you were working in music. Then, when you moved to New York, you began working at a bookstore. What lessons did you pick up about curating from these two careers that you've worked into how you run BBN?

So, I worked at Tower Records in Tokyo, which was my first actual job. At the time, Tower Records was the best place to check out whatever was happening in music and culture outside of Japan. My enthusiasm wasn't there, in Japan; it was always about what was on the other side of the ocean. They had an imported magazine section, too. I was always there reading as many magazines as caught my eye on breaks or even when I was off. And I found myself loving magazines, even more than CDs. So, I started to work at a Japanese publisher (as an intern first) to learn more about the actual publishing industry. And I started to work at a bookstore, Tsutaya, at the same time. I thought, Being an editor is the best gig if you work in the magazine industry, but actually I was loving selling books and magazines more than writing articles that weren't what I really wanted to write. So I quit the publisher, and then my bookseller life officially started, and now I've been working in bookstores for a long time. So it's very natural to want to be doing something by myself, now.
The way your service is set up, at least online, you're able to search not only by magazine title but by mood (dreamy, hungry, raunchy, etc.). This isn't something I've seen before, but there's a real sense of fun to poking around on your website, something that totally goes against all the overwhelm of walking into so many magazine shops and being overtaken by the selection. Before you started BBN, was there something you feel was missing from the way people were engaging with magazines?
I'm always worried magazines might seem a little intimidating to the general public as I've seen them get more creative, more sophisticated, and more specialized since working at the bookstore in Tokyo. Those are all great things, but I believe all these fantastic magazines can—and should—be approached and enjoyed by with fun and by everyone.
You're also the magazine buyer at McNally Jackson in SoHo, and in our conversations you're often talking about books you're reading (sometimes even the Japanese version of a book, and then its English translation, which is endlessly fascinating to hear about). What separates books and magazines for you? Magazines feel so hyper-current, while books are lasting in a very different way. Is this the main difference, or is there something else that excites you about mags specifically?
I'm a very curious person—like, I want to know everything that I don't know and am not sure how to get into more. So, a magazine is the best material with the right "portion" that you can get easily for that kind of thing. You don't even need to read whole pages—you can pick some articles, and I think the mission of a magazine is completed, then. I read books when I know more clearly what I want to feel, or how much I want to know—like when I'm more interested in getting to know more.
There are so many smaller-production magazines and journals that you seem so dedicated to promoting. In fact, there are very few "legacy" magazines (New York, The New Yorker, etc.) that BBN sells. How are you engaging with young, sometimes probably inexperienced creators to make BBN as current and vibrant as it is? In magazine descriptions on the website, you often have information straight from the editors/creators/etc. of the magazines—is making that personal connection between creator and seller an important part of this for you? What are you as a curator and we as a buyer getting from that extra bit of connection and information from the maker?
When I was thinking of starting [Bye Bye Neighbor], I didn't want to neglect magazine's readers nor the creators. I knew for sure that specialized, independent magazine-makers have very strong missions and reasons why they make each magazine. That's one of the most important things I have to deliver to readers—from [independent magazines] more than from big magazines. Again, I don't want to make it too sophisticated. So I try to give people simpler and easier ways to get into the magazines.
I've had my copy of your magazine, Chomp, displayed very proudly on my desk for the last year. I'm wondering if you'll talk about what made you want to make your own magazine, and what making it taught you about other magazine's processes and how you engage with them?
I always wanted to make a magazine because…it's cool. But I know it takes a lot of time and money. So I needed to find a concept that can pay [the creators]. When I wanted to make Chomp, I had a very clear vision of what I wanted to tell. But even if you find a concept, it's still hard to make it real. So I kind of knew how much effort you have to put in, financially, mentally, and physically, to make printed matter…and now I automatically appreciate meeting people who are making their own magazines.
In the past year, you've started setting up a stand in parks around Brooklyn and Manhattan and selling magazines on weekends. The outdoor thing could totally be rooted in pandemic necessity, but moving from online to this deeply personal way of hawking magazines feels like stepping back in time a little. I regularly have friends who don't know you say they've seen some cute guy selling magazines in McCarren Park, Tompkins, or wherever. What made you make that move? How has it changed BBN as a business?

I like selling magazines, but I more like meeting people reading them actually even people not reading magazines very much haha. I started BBN as online store, but I'm always interested in selling them in person. I feel like It's very nice thing to connect with people physically ( specially after the world pandemic stopped us seeing each other. ) It sounds like I'm old ( I'm actually old but ), I believe that the old things are always beautiful and the beautiful things are always beautiful. We sometimes change or invent new things too much So I just wanna keep doing in the old way or yeah I'm just old that's not familiar with any tech.
Are there one or two memorable interactions you've had with people in parks where you've been selling magazines? Where's BBN going next? What's the next step for the business, artistically or otherwise?
I just had one last weekend, actually. A guy stopped by the pop-up at Tompkins and I found out he was the editor-in-chief of Architect magazine. He was very nice. We talked a lot about magazines. Of course his knowledge was way, way beyond mine [Jack's addendum: doubtful]. And when we were talking, another girl stopped by, too, and she also loves magazines and joined our conversation naturally. We just kept talking. Even when I was with another customer, they kept talking by themselves. I was so happy to see that happening—like, connecting people through BBN, which I never expected. So I just want to keep making that happen.
Bye Bye Neighbor is on Instagram at
@bye_bye_neighbor
and online at
www.byebyeneighbor.com