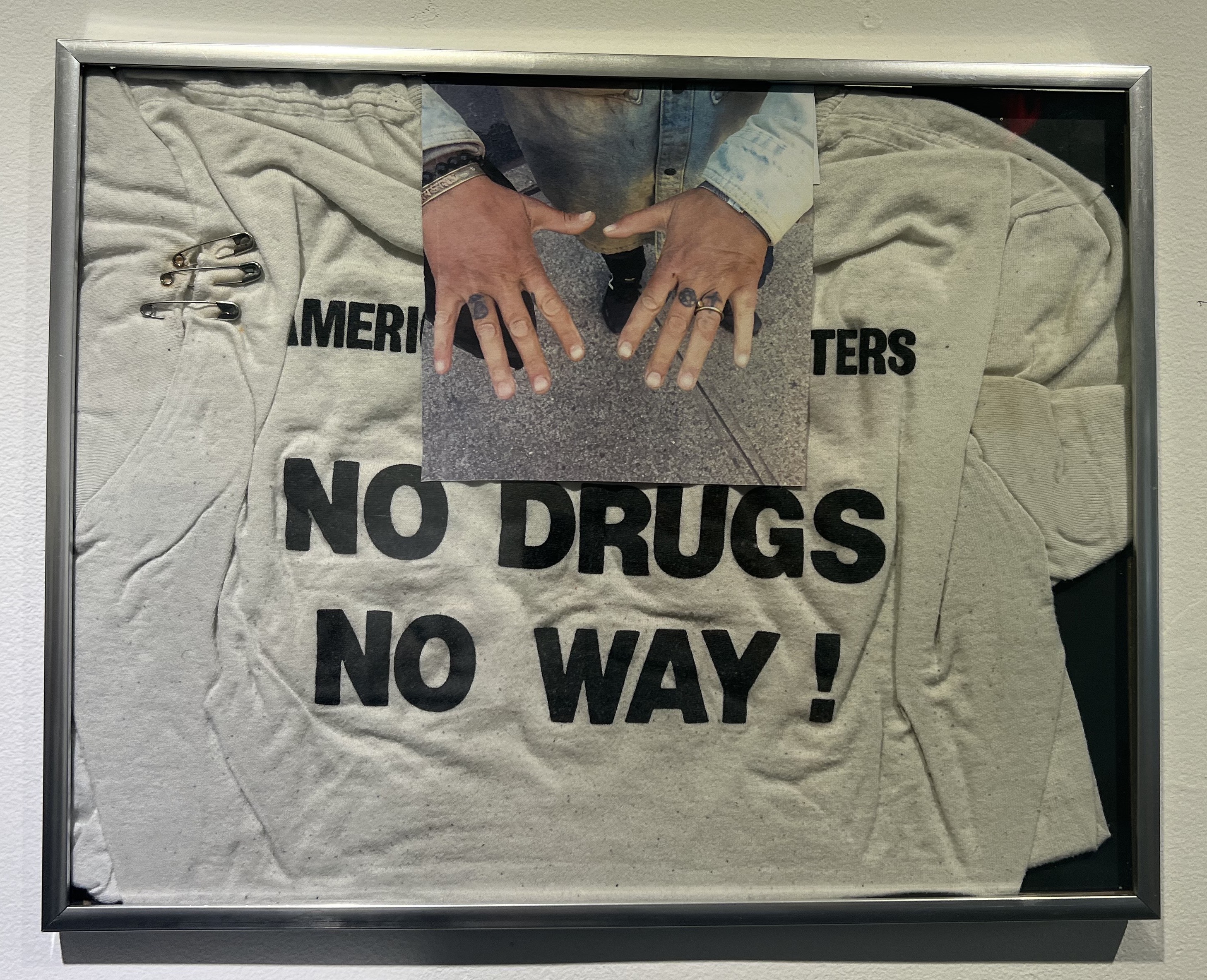 bullet valley, "STRANGER", mixed media, 11" x 14", photo by author
A Show of "Firsts"

and an Interview with Curators Diego Barcelo and Selah Wilks.

By tasneem sarkez

05.08.2023

Joke's Up!
Curated by Selah Wilks & Diego Barcelo
PUBLIC ACCESS
105 Henry St, NY, NY
April 20, 2023 - May 14, 2023
There's a growing interest in younger people not only finding their way into the art world as artists, but within curatorial positions. Most recently, a show opened at Public Access gallery in Chinatown, where Selah Wilks and Diego Barcelo made their curatorial debut at just 22 and 20 years old. "Joke's Up!" is a group show of 20 artists from New York, Chicago, and Montreal, featuring all young artists brought together by their common interest in temporality, gestures of assemblage, and the materiality of youth.
Diego Barcelo has worked for Public Access since he was 17, at the start of their presence on St. Marks. He met Leo Fitzpatrick, owner of Public Access, through a friend at MOMA, who had mentioned his friend needed some help opening a gallery on St. Marks. Barcelo had never really worked in art before, but always had an interest in art making, working primarily with photo, video, and collage. He grew up in Venezuela and came to New York when he was 13. When his friend mentioned the gallery needed help, Barcelo was looking for a change of pace in the city - something to get a start.
He's been working at the gallery since its second show, creating promotional videos, flyers, and doing general management. Public Access has always branded itself as a space that welcomes emerging artists, especially artists who have never shown before. It lends itself as a community space to support youth culture in the city. Fitzpatrick and Barcelo had reached a point in their relationship after three years of working together, where Barcelo was given the floor to curate.
Selah Wilks has always been interested in the act of curating. The ability to pick, assemble, didact, within an aesthetic or frame of thought, feels intuitive to her, and she enjoys doing it. Initially, Wilks began her college education to become a midwife, and had a moment of recognition for a new lifestyle after taking one art history course. Wilks had been working for a justice corporation in Miami doing design work, but was unfulfilled by the lack of creativity. She took an art history class before moving to New York City, and after settling into the city realized how much she missed her passion for art and curation.
Wilks came into the picture with Public Access in 2021, initially coming to Fitzpatrick with the proposition of working at the gallery, but instead taking the chance to curate. After studying art history for the past four years, Wilks is graduating and making her curatorial debut with Barcelo. They've been working on organizing the show for the past year, so I spoke with them both to learn more about their intention of the show, what they've learned about the art world, and what's next.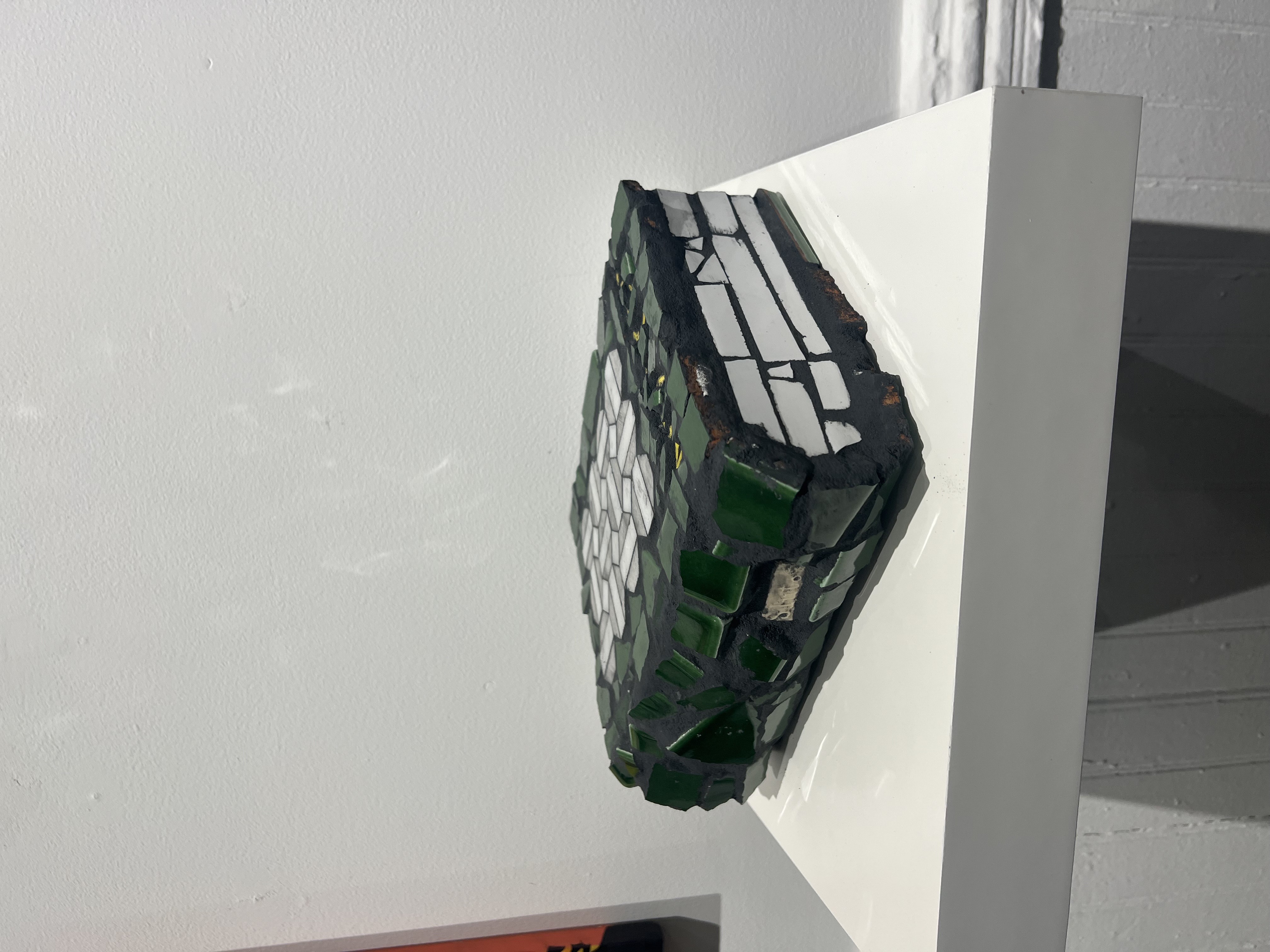 Sluto, "Not Yet", Mosaic on concrete
Sophia Leilani, Untitled, Steel, steel studs, 17" x 20"
"Joke's Up!" centers on a community that's bounded by the idea of chance and beginnings. The work presents itself as a materially diverse community, representing the individuality of each artist, yet collectively presenting as interconnected relationships about youth culture & aesthetics. Barcelo and Wilks wanted to present a show about the things they like and see in their everyday lives, made by old and new friends. Most have never shown their work before, and they saw it as a moment to give these artists a chance. The process began to fall into place as artists agreed, new artists were discovered, and the group began to feel like a reflection of the world around them.
For Barcelo and Wilks, community is about being raised together with space to show the interests of artists today, and what's growing in the art scene. When I asked about the meaning of the title, Barcelo jokingly said "It's the first time shit ain't funny no more". Though it was a joke, there is some truth to it. It's the first time that both the curators and artists are making their work known, considering the immediate barricade most youth are met with getting their foot into the art world. They didn't know what to call the show for a long time, until Barcelo saw the words written on some packaging and liked how it read. He called Wilks, and they both felt satisfied with the simplicity of its name. It's simple, pointed, and a bit ironic - just what they needed.
As with many 'firsts', they were met with unprecedented truths. Learning the social dynamics and the coldness of the art world, most galleries tend to rely on an image of "progressivism". Capital and superficial social images took priority as they were struggling to be taken seriously by other art world professionals. Having worked in a gallery space for three years, Barcelo said, "[the] fallacy of the art scene to be 'community oriented'' was something he had suspicions about, but didn't understand until he found himself in its system. Wilks has been archiving for artists, and learned a lot about the art market from them: they described the luck that comes with your work fitting into the market just because it was in the right place at the right time. Wilks described how there's a "juxtaposition between the way artists exist in the world, how they exhibit, and the market that buys in response". It's a reminder that the systemic operations of the art world are not sustainably viable for the ethos of what community should be.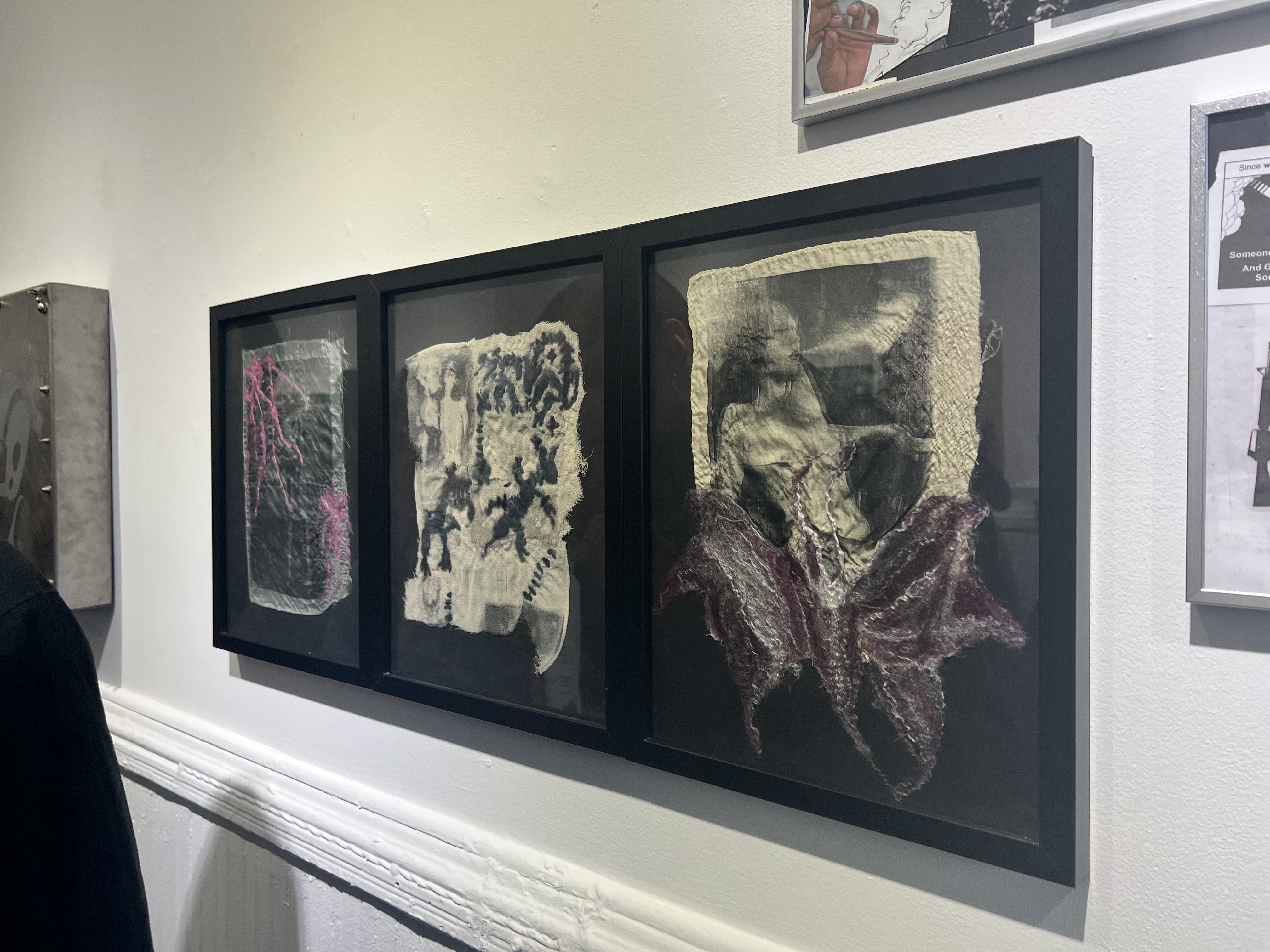 Isabella Kressin, "Doll Case", Print on silk, wool, mulberry silk, 6" x 7.5"
"Girl Swimming", Print on silk, wax and freshwater pearls, 12" x 9.5"
"Untitled", Print on silk, wool, mulberry silk, 13" x12"
They've found that as young people of color, their inherent presence in the art world disrupts the natural order of things. Both have described the passive support received from white people in the arts as a way of diffusing real conversations around curation, identity, and racial capital. Visibility continues to remain important, especially coming into a space where most young people's ideas for shows aren't taken seriously. They're met with the flawed stagnancy of the art world to cater to a white status quo.
We rounded off the conversation by talking about what's next for them both. Barcelo says he'll "dip [his] toes into music a bit more. I'm gonna keep working at Stussy, my day job. And just keep pressing spaces to let us curate shows." Wilks is working on a zine, with Barcelo's help. She says, "I'm finishing up school, gonna keep working in archiving, curation, and research. Also my day job at Creative Time."