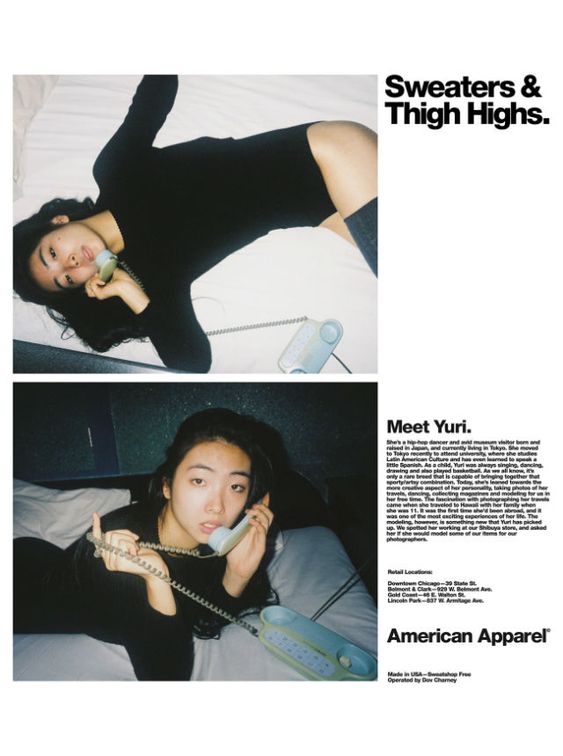 American Apparel Savior Complex

American apparel was everything I wanted to be, and everything I was so far away from.

By GRAYCE TOON

03.22.2023
I broke one of the straps of my American Apparel Jelly Sandals my first week in New York. It happened while I was sneaking onto the roof of an apartment in the East Village. I half-smoked (I didn't want to embarrass myself coughing) a joint with one of my new friends. I looked at the skyline and yelled "fuck yeah!" We played Lana Del Rey's "High by the Beach." I was a fresh 18. It felt like I was living out a dreamed aesthetic from my Tumblr page.
I was very online in the 2010s, so I loved American Apparel. I was captivated by the simplicity of their materials (mostly cotton and denim), with a style that was so effortless and sexy. Their ads gave this sex appeal of pin-up meets LA 90s. I even coded my Tumblr page to be a recreation of their "Meet the Model" ads. It was everything I wanted to be, and everything I was so far from.
These images of overly sexual American Apparel models fed into this type of sex-positive feminism of the early 2010s: the idea that to really gain back our power under the patriarchy, we should embrace our sexuality. The days of slut shaming were gone! Hooking up with strangers was now empowering, and the more of a "player" attitude that women took towards sex, the closer they came to achieving equality.
It was our turn to subvert the narrative. As teens and very young adults, we thought the game was ours to control. We didn't realize we were still playing by someone else's rules, shaped by people like Dov Charney, founder of American Apparel, and Terry Richardson, the fashion photographer who helped mold AA's iconic ads. Both of these men were also accused of multiple counts of sexual harassment, yet both were setting the bar for what aesthetic was desirable.
American Apparel's clothes notoriously run a size small, a fact which embarrassed me before I found out. At the time, I was a large (size 10-12) in most clothes, but to American Apparel, I could barely fit into a size XL. I wanted their iconic Tennis Skirt the most—however, they only came in an extra small to a large. I had to settle for their Denim Circle Skirt instead, which did come in an extra large. I wanted to pair the tennis skirt with their Thigh High Socks, which went up to your upper thigh, with two colored stripes at the top. I felt that this would project the most girlish, yet approachably sexy version of myself. When I first tried on the Thigh High Socks, they squeezed my legs instead of accentuating them, encasing them like sausages. Another desire was cut short; another "no" added to a list I counted every day at 17. I left the socks behind when I packed for college.
What I thought would be a chance to depart from the brand instead became a head-on collision: My school was right across from an American Apparel store. I did not have the money to buy a lot of their clothes, but I did make the time to torture myself by trying on everything I liked. My rural Kentucky life had sheltered me from the confrontation of their entire store inventory meeting my body.
To make matters worse, I was making friends with some of the hottest people I'd ever been around. Half my friends owned the Julliard wrap top, but it would not even wrap around my body. I remember once going with a friend to try on lingerie (she had a boyfriend; I just wanted to buy something that could get me attention). She bought a few bras and I bought nothing; I had no boobs to fill the cups, and the bands were too small.
The American Apparel across from campus closed my sophomore year, which couldn't have come at a better time. I had gained some weight from drinking and trying to figure out how to smoke weed without having a panic attack. It felt like a double whammy since Girls was also ending at the same time. How would I figure out young adulthood in New York without them? What would I even know to wear if I were ever invited to a Bushwick warehouse party and then accidentally smoke crack, like Shoshanna? I would have to make my own field guide to get through this next section of life.
---
Skip ahead some years and I've stopped drinking and started running. I'm in love, like an actual relationship where he likes hanging out with me during the daytime. I'm making alright-ish money and I love looking at Depop in my spare time. One day on my feed, I saw her appear on my page. She's now under a different name, but I know she's the same girl: the Los Angeles Apparel Tennis Skirt in red. I couldn't believe she'd found me after all this time. Like a real friend, I reached out and asked what her waist measurement was. It would fit me. I bought it. I own it. I wore it. I still wear it.
Over the course of a few months, I bought several items of deadstock American Apparel and newer Los Angeles Apparel. I even convinced one of my friends in LA to go to their warehouse in South Central after reading online that you can shop the warehouse with an appointment. We drove to the warehouse and, after knocking on the door for several minutes, we walked to another part of the warehouse and asked an employee if we could shop in person because I "was visiting from Brooklyn and I would die if I could step foot in the factory." We were given an hour to shop.
It. Was. Massive. I couldn't believe it. I had finally made it to the origin of life. The machines were already fired up and birthing new items that day. Huge cardboard boxes, the ones that are in the grocery store and usually contain huge watermelons in the Summertime, were filled with slightly imperfect t-shirts. There were rows of hangers of sweatshirts, swimwear, jackets, jeans, pants, dresses, shorts, you name it. My friend who went with me even got a denim bikini top, because why not? I picked up some heavily discounted crop tops, a skort, shorts, and a hoodie. After an hour of searching through rows and boxes, I made my way to check out and was sent into a whiplash: right by the register was a pair of mannequin slim legs modeling a pair of Thigh High Striped Socks. I was flooded by past anger at them, for making me feel huge, for making me feel boyish, undesired. I realized: I am 25 and am being triggered over a pair of Thigh High Striped Socks. After all this time I needed to know how they'd feel now. I bought them.
I didn't let myself try them on until I was back in New York, in the safety of my apartment, where I could hear my cat beg for more food, feel the construction next door to ground me. I tried them on and they fit…but not like I thought. It was not in an idealized, thinner, girlish way but in more of a muscular way, similar to how a rugby player would look in them; it's an accessory that gets more in the way of what I'm doing than actually helping me achieve something. I don't even know what I can gain from them now, but I still feel this hold on me: the want to be so desired. In fact, the kind of long-held desire to make someone fly across the country, just to find me and try to make it work again. That I am so special and sexy and stunning to make someone break from the security of their life so easily. I want to be the exception. American Apparel gave me the promise that I could be, but I know that I'm not. I take these socks off one leg at a time, just like everyone else.