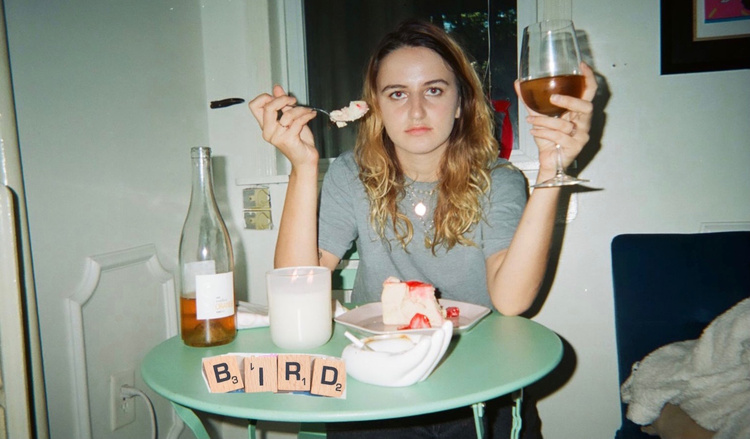 Artist Spotlight:Kylie Vincent on Her Solo Piece'Bird'

"The most important things to share are the ones that scare you."

By Sarina Freda
10.20.2021
COPY's Sarina Freda interviews Kylie Vincent about her upcoming solo show,
Bird
.
How the heck did you start?
I was nannying these kids in Clinton Hill and I brought a journal with me for when they were doing Zoom school. I wasn't like, "I'm gonna write something, I'm gonna be productive in this pandemic"—I just started journaling about childhood memories. It became unintentionally poetic. I started describing my trauma and the people involved as animals and I thought, "I guess I'm writing a book?" I turned it into a solo show. At some point I sent it to my mentor, Barb of the Tectonic Theater Company, just to hear her thoughts and she said, "I wanna do this." And I was like, "What? I thought this was going to sit in my computer forever." It was scary to send it to someone because anytime you create something yourself, there's this feeling of imposter syndrome. She validated that and we've been working together ever since.
What has Barbra's role been in the process?
She has a lot of experience devising work, so we would pick moments and create ideas. Through that process, I cut a lot and adjusted the piece. With a solo show, you can make it whatever you want it to be, so we still don't know where it's gonna go. We've seen it in a lot of different ways—super theater-y, or super stand-up. We thought about doing it with just a microphone. But we've found a great balance between the two. An amazing stand-up comedian came in to help me incorporate all of my material so it wouldn't feel choppy.
Would you say the story has changed as the form has adapted?
The story hasn't necessarily changed. When I first started, I was able to describe how it was about abuse, but also all of these beautiful memories that came up. I thought the story was more about that, but I found that it was about me coming out of childhood and finding who I am. It is more about overcoming sexual abuse, and I didn't feel that at first because I didn't want to feel that. But it has been validating. Using both theater and stand-up allows it to feel a lot more real. I am a super compartmentalized person, so for a while, I felt like I could only do theater or only do stand-up or only do activism. That's not true at all. You can be all those things and this piece is a combination of all of them. It was such a sigh of relief to feel like I could do all of that.
Did you always want to do a solo show or is it a bit shocking?
It's a bit shocking. I never had that conscious thought. It makes sense with my background in theater. I was in a Zoom playwrighting circle and when I brought in pieces of the show, they said, "This sounds more like a solo show." They told me, "Just pick one person to talk to." That changed everything. People tell me how amazing it is that I'm doing it, but it feels like it's surpassing me. I always knew that I was going to create something personal one day and with stand-up, there is a cap on how deep and meaningful it can be. With theater, it can become so disingenuous. When you do your own piece, you have so much freedom. You just have to allow yourself to use it. You can do anything you want tomorrow. When I was producing comedy shows just so I could get up and do it, I thought, "Why have I never done this before?" It's just you holding yourself back from sharing what you want to share. I feel seen by this project, which is probably the scariest part of it.

What has been surprising about the process?
I have a dramaturg and that is insane. She can see things that I would never see, just in the questions she asks. At a certain point in the show, I pull out a to-go Oatly because I'm not a big drinker and that's something I do in real life, and the dramaturg said, "Yes. Milk. Childhood. It all makes so much sense." I would never think about that. She brings a lot more structure. You have to have a certain type of brain to put that stuff together. There are so many moving parts to it that I couldn't imagine doing it by myself.
What has been the hardest part?
How personal it is. I've gone personal before with stand-up, but there is a wall of safety because it is straight comedy. I had never identified as a victim of sexual abuse and I've come to realize that can be extremely helpful in feeling a sense of community and knowing who you are. I was so scared to even post about it and have it just disappear, but everyone has been so supportive. The most important things to share are the ones that scare you. When I started working on the show with everyone, it was probably the worst place I was at. We've taken a lot of steps to make it a healthy environment. This is the first time I'm sharing it publicly, so it's just accepting that. In the room, I try to refer to my character as "Bird" and refer to my sister as the character's name because it helps me take a little step back from it. I also think that the hardest thing about this piece is acting it because I wrote it and it's about my life. I have to be able to access real emotions that could be damaging, but it's a really good challenge. I'm curious to see what happens when I do it in front of real people. You know when you have that inner feeling that kicks in and you're like, "This is a show and I'm in the moment?" I'm so excited to feel that. But what I'm most excited about is for this piece to be out there and for the community that will bring. I think that's going to be the most healing part.
How have other solo shows like Hannah Gadsby's and Jacqueline Novak's influenced you?
I was talking to some guy comedians about Hannah Gadsby and they said, "It's not really a Netflix Special." Yes, not in the traditional stand-up sense because it does go deeper and it gets a little Ted Talk-y, but that's the stuff I resonate most with: mediums that have been mixed together and have made a medium of their own. With Jacqueline Novak, I loved wondering, "How did you think of this?" People could watch it and think, "This is strictly funny," and people could watch it and think, "This is an amazing piece that goes above and beyond." I walked away from it thinking, "That's what I want to do in life."
What do you feel is next for Bird?
In the big picture, we've talked about traveling to colleges, which would be great because I think it would be so well received in those communities. Then we want to workshop it in a couple of cities and hopefully bring it to Edinburgh. These are such long processes. I think Heidi Schreck worked on
What The Constitution Means To Me
for seven years. The show feels like my baby and I'm just going to keep nurturing it.
Bird
will be performing at the Kraine Theatre on Nov 6, 7, 10 & 28th.
Purchase tickets
here
.
IG:
@birdonewomanshow
@kylievincentthefirst
Support
Bird
on Seed&Spark
here
.
.