Photo by Taylor Stout
Barge Day
A man seated at a table at the other end of the room doesn't say hi. What he does say is, "You're standing in a boat that is one hundred and nine years old."

By Lily crandall
09.15.2023

We never really go to Red Hook unless we're going to IKEA, so we decide to "make a day" of it. We travel to the notoriously subway-bare area of Brooklyn by meeting up on the G train (we even coordinate train cars), getting out at Smith-9th St, and waiting 24 minutes for the B61 bus to take us to the water. We discuss that the website for our destination says they offer tours, but we couldn't find a schedule. We talk about how great museum tours are and that we hope we make it in time for one. We walk past the 130-year old Sunny's Bar, which Taylor had pinned in Google Maps. We say we might go there after.

Before too long we see the barge bobbing in the water, with its quaint, lopsided, "MUSUEM OPEN" sign waving. We walk down the dock and enter the Waterfront Museum. A man seated at a table at the other end of the room doesn't say hi. What he does say is, "You're standing in a boat that is one hundred and nine years old."

Taylor and I take in the room. We are standing on a barge floating on the water off Red Hook. On both the walls running the length of the barge hang collections of nautical paintings and photographs of abandoned cars. On the back wall is a kitchen complete with a stove, a fridge, mugs, a sink, a toaster oven, and a water cooler. We're the only ones here.

The man at the table approaches us, points above our heads, and says, "There's a chicken up there who is excited to meet you." Confused, we follow his gaze to the wall behind us, where a huge wire sculpture spreads across the width of the room. At one side, high up, is a metal chicken. The man turns on the machine, and a conveyor belt begins to carry a ball to the top, to the chicken. He explains to us that this is a piece by audio-kinetic sculptor George Rhodes. When the ball reaches the top, it travels down a series of paths, hitting bells along the way, bouncing from one basket to another. Before the ball reaches the finish line, he unrolls the backdrop: a giant, painted canvas that falls dramatically.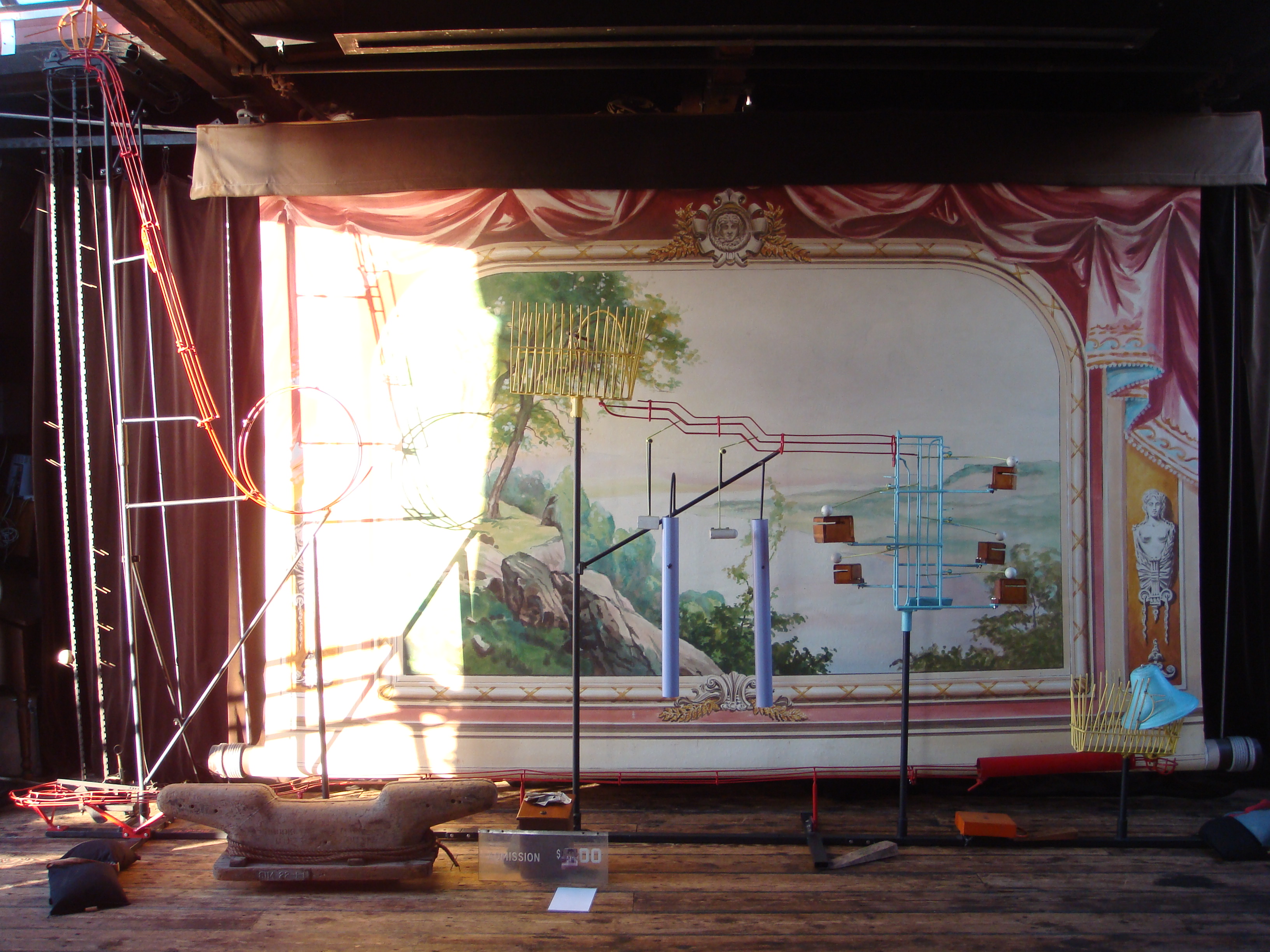 Sculpture by George Rhodes / photo by author

He introduces himself, and David tells us that he bought the Lehigh Valley No. 79 barge in the mid 80s for $500 and spent a few years cleaning mud off of it. I ask the single question on my mind: "Why did you buy a barge?"

"Well I used to be a juggler." Taylor and I discuss later that we both at first assumed he had meant this as a metaphor, like he worked a lot of odd jobs or something. He then explains that for a number of years, he was the sole juggler for Carnival Cruise Lines, which at the time was one ship. He tells us about the tall ceilings on the ship, how they were ideal for his line of work. To be honest, I don't really remember the specifics of how he came to acquire the barge. I think I was still reeling from learning he is a former professional juggler. He spent some time in Paris, was married, had two children, and then decided to live on the barge.

David tells us about how he and his wife raised their two girls on the barge. He speaks fondly of memories of them playing on the docks and says they didn't think it was strange to live on a barge because that's all they knew; they thought it was just as weird when they went to their friends' apartments on solid land. He shows us his wife's "she-shack," which is a bench on the exterior of the boat where she likes to read, with a glorious view of the open water. Next to it are a dozen old work boots with flowers growing out of them. David tells us those are the boots he wore when he was cleaning the mud off the barge all those years ago.


Photo by Taylor Stout

There's a point during this when I realize we are in fact on one of the tours the museum website says they offer. There's no doubt in my mind that David has delivered these speeches hundreds of times before, leading thousands of curious guests through his home on the water. He asks us how we heard about his museum, to which Taylor replies, "it was, uh, a TikTok." In our post-museum debrief over beers at the brewery next door, we agree that it felt strange to say the word TikTok in a century-old barge. He invites us to join their mailing list to keep up with events and happenings, which means entering our email addresses in his computer's Contacts app.
Taylor sent me the TikTok of someone visiting the museum a few weeks ago. The video's creator described it as a "secret treasure in Red Hook." Taylor did some research to find out more that led her to the museum's website, which looks straight out of a mid-aughts educational video game in the very best way. Immediately endeared, we set a date (the museum is only open on Saturdays and Thursday evenings so we had to plan ahead) and wondered just what we would be getting into. I told friends about this excursion to the barge museum and was met with the same question every time: "What exactly is there to see at the barge museum?" I didn't have an answer, but I was going to find out. Between the single TikTok and a mysterious website (which includes a "Press Coverage" page that has not been updated in over a decade), we were excited by the idea of visiting a real hidden gem. Exactly two weeks after we learned of its existence, we journeyed to it.

The Waterfront Museum's website

The Waterfront Museum will celebrate its thirtieth anniversary next year. David tells us excitedly about the upcoming programming, including music and theater, happening in the space. David tells us about everything excitedly, actually, from pointing out where support beams used to be, to the seal he used to weather-proof the floorboards, to stories of great-grandchildren of the barge's first inhabitants back in the 1920s returning to see what he'd done with the place.
It's at this point that a family wanders onto the boat. Taylor and I drop some cash in the donation box (admission is free, but donations are appreciated). David insists we take Lehigh Valley No. 79 postcards and brochures, which is great because we both love postcards and brochures. He also gives us each a temporary tattoo. It's golden hour, and orange light streams through the window that looks out onto where the East River meets the Hudson below Manhattan. The Statue of Liberty stands in the distance. We thank David and promise to come back again.
Taking in the room a last time, I notice things I didn't during our tour. There's a canoe hung on the wall above the kitchen area. There are ancient-looking hooks and pulleys hanging from beams along the ceiling. There's a small stained glass artwork hanging near one of the windows. I have no doubt that if we had stayed longer, David would have told us the story of all of it. In the days after our visit, I think about how his career path from juggler to museum guide makes more sense than I realized; he started out bringing joy to cruise passengers on the open water and now spends his Thursday evenings and Saturday afternoons recounting the tale of buying a mud-covered barge to city dwellers. As we leave, we hear him greet the family, who looks just as confused and wide-eyed as we did when we walked in: "You're standing in a boat that is one hundred and nine years old."