THE ADVERTISERS
Everything But The Band: Samantha Singh

musician Julia Vassallo talks to photographer and friend samantha singh about the magic that makes a live show.

By JULIA VASSALLO

3.2.22
As a musician, getting on stage at a live show is an experience like no other. The adrenaline that courses through my veins as I jump down into the audience gives me a jolt of energy that no artificial substance can replicate. Singers, bands, and performance artists are often given the spotlight to be interviewed, explain their craft, and to bask in the glow of the blue light of the computer screen where their words are published on blogs and zines.
But performers like myself are only a small part of what makes up the magic of a live show.
Welcome to
Everything but the Band
,
a series highlighting those who support musicians/bands offstage: photographers, sound engineers, bookers, managers, lighting specialists, venue interns, and the like.
The first installment of the series features photographer Samantha Singh (
@girlinink
). When I met Sam in a poetry class during our first year of college, I knew that she was cool because we instantly followed each other on Spotify and I stalked her playlists, which I liked very much. Then, I noticed via Instagram that she photographed rock bands and that solidified how cool Sam really was.
Fast forward to 2021, when Sam and I caught up again in the back room at St. Dymphna's. Later that month, I had the privilege of having her photograph one of my shows, which inspired me to reach out and ask her some questions about rock photography and what it's really like to be the lens people look through to see musicians in their element.
What inspired you to start photography? Who were some of the first photographers you remember looking up to?

I've always been a rather sentimental person, and I think my initial impulse to take pictures came from my desire to try to hold onto a moment for as long as I could. I didn't really know much about the medium as an art when I first picked up a camera as a teenager, so I don't think I was consciously trying to mimic anyone by going into photography. But later on, I remember a musician friend introducing me to strangers at some party in Chinatown as "the next Annie Leibovitz," and embarrassingly at the time, I was barely 19 and quite unaware of her significance. I smiled and noted the name to look up later. When I did, I realized my friend had made a substantial exaggeration, but I was flattered to have been mentioned alongside Miss Leibovitz, and she became one of my inspirations.


Prior to that, I was lucky enough that my high school in California still had a film photography program while I was in attendance, and through my teacher, the wonderful Zach Moser, I was introduced to the technical and theoretical aspects of image-making. I think Zach deserves the title spot of "First Photographer I Looked Up To" with his multimedia composite work and series related to memory, but his class also exposed me to artists including Dorothea Lange, Robert Frank, and Henry Wessel. On my own, I came to admire Nan Goldin, Mick Rock, and Henry Diltz, among others.


PROMISELAND
When did you get into documenting live performances? Is there a first or significant early show you photographed that made you think "I'm going to do this"?

It was a defining moment in two acts, I suppose. The first show I shot happened in a miraculous sort of way. I was seventeen and just visiting New York for the second time; I didn't live here yet. I brought a camera to a show at the Music Hall of Williamsburg, and despite signs posted in the lobby touting a no-camera policy, the bouncer either did not see my camera or simply did not care. I stood in the general admission area, along with everyone else, and shyly took the camera out during the show to get a couple shots. I was still nervous about it being confiscated, so I kept looking around at the security people and tried to be subtle. Despite this, the band's official photographer ended up standing right next to me at some point and asked me who I was shooting for; I said, "No one, just myself," and expressed my fear of getting found out for sneaking a camera, and he replied, "If anyone gives you any trouble, tell them you're with me." After the show, he even called the band over to introduce me. That was music photographer Toby Tenenbaum, and I'm happy to report that, in addition to his being a gem, he remains a friend today.

When I got back to California and looked at the pictures from that show, I was surprised to find some of them were actually pretty decent. I entered one into a contest at the county fair and forgot about it until I was notified that it had won a prize. That gave me some confidence in the idea of potentially continuing to shoot live music.

I've always loved music and been friends with musicians, so after that, it was really only a matter of time. About a year or so later, I was hanging out with a musician who was playing bass in a band. They knew I liked to hang around and usually had a camera on me, so they asked me to shoot their show at the Bitter End along with a couple other shows at galleries and small venues around NYC. There wasn't any pressure because we were all friends, and the band didn't have anyone else talking pictures of them because no one knew about them yet, so I felt like that was a good first run for me in terms of getting comfortable taking pictures of live performances. I realized there's more involved than just getting a picture that looks cool. On a basic level, before you do anything, you have to get past the awkwardness of your own physical presence around the stage as you're shooting and people in the audience are looking not just at the performers but also at you in these intimate venues.

When I sent the pictures to the band and learned that they liked them and planned to utilize them for promotional purposes, I was happy to feel useful in their creative process. I think that initial gratification, that sense of having contributed something, spurred me to get more involved with shooting live music.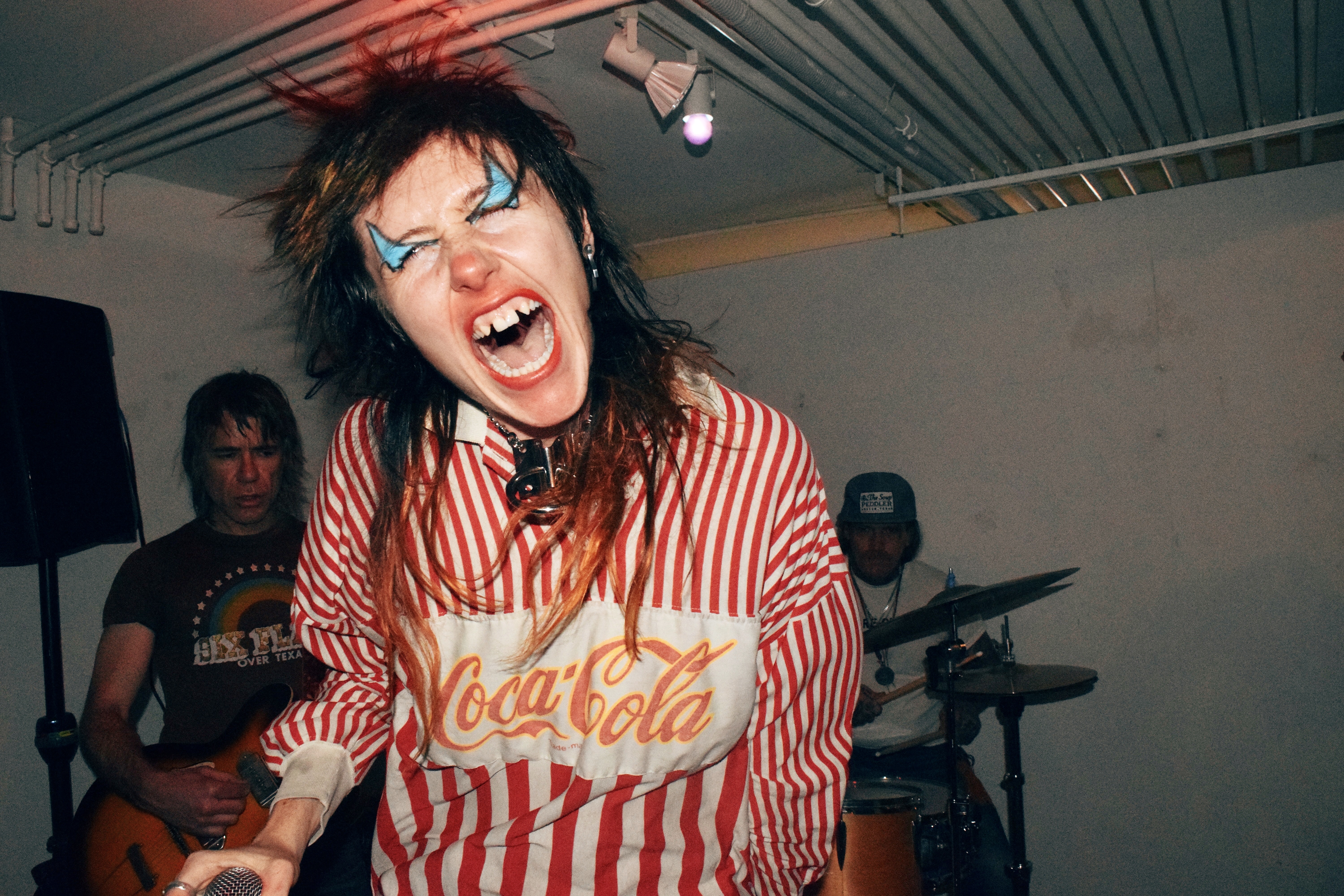 SURFBORT
What is your preferred camera/lens/film to shoot with at shows?

I'm a firm believer that the best camera is the one you have. Of course, that's not to say that one isn't technically "better" than another depending on the type of situation, but I've found that I make my most interesting work under layers of self-imposed limitations.

For live music, I prefer to shoot digital with a Nikon DSLR because there are so many uncontrollable factors and I don't always want to rely on the caprice of film, though I do love analog and usually stick to it for portraiture. I also travel light. You won't see me with a huge lens or a fancy flash system—nothing I can't fit into my large black leather purse.




Do you always bring your camera to shows or are there times you just want to go as a spectator/fan of music?


Most of the time when I am invited to a show these days, it's because someone wants pictures. Haha. I try to deliver, but after a few months of being inundated with requests and feeling a bit overwhelmed between that and other life-related obligations, I'm having to be more choosy about which shows I decide to shoot for work, trade, or personal interest, because I'm learning the difficult way that I don't have unlimited time or energy.

That being said, I go to a lot of shows for reasons other than to take pictures, such as to support friends or simply have a good time, because I do love music, but even when I don't consciously set out to take photos, the impulse is always there, stemming from that aforementioned desire to document as a way of saving an experience. Sometimes, I give in to it. Other times, I don't and am forced to encounter a certain feeling of nakedness without a lens to hide behind, devoid of that sense of purposefulness that comes from "being a photographer." It was unsettling the first few times I noticed those feelings. Now, I think I'm able to get past them and actually enjoy the shows.


If you could photograph any artist/band, past/present, that you haven't already, who would it be?

When I was growing up, I was a serious Michael Jackson fan. Though I never got the chance to see him play live, I've watched a lot of his performance footage, and I think he would have been an amazing performer to witness and capture.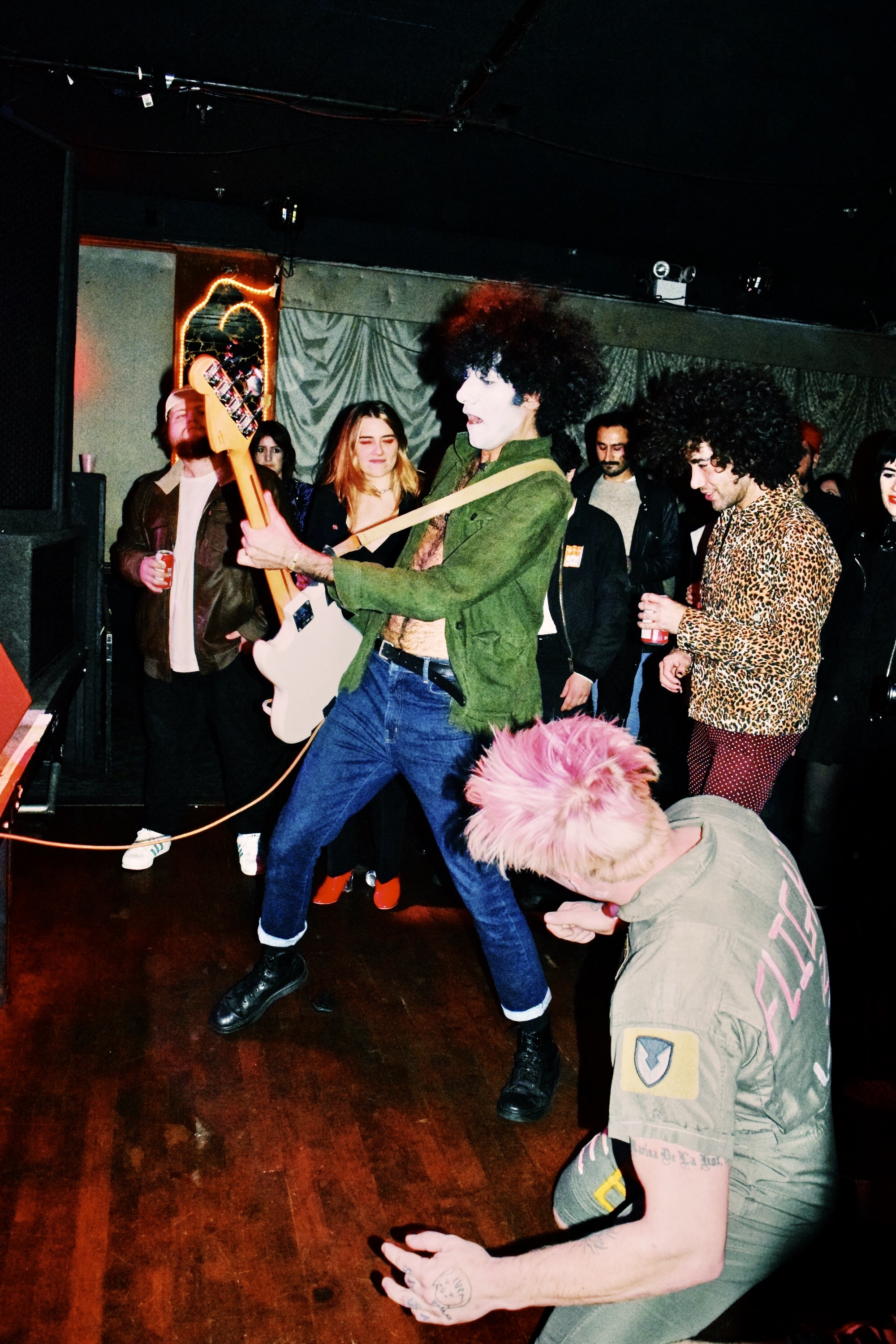 BIPOLAR CUMGIRL8


Are there any funny stories that come to mind with documenting a live performance? Share one if you're so inclined…

This is probably going to come off as incredibly naive because I undoubtedly was at the time, but I distinctly recall being at a larger show when I was still underage and feeling very specifically like I was having my Almost Famous moment. Now, I don't mean a cool Penny Lane moment; I'm talking about William being left on the ramp when he's trying to get backstage. It was a band that I'd looked up to for a while, and I just so happened to have befriended one of the members, so I stood to the side of the stage and called him, and he ambled out, found me, and went to guide me back through the rope when the security guard stopped us. I had all the appropriate wristbands despite my age, but I could see this guy look between me, some little girl who didn't know how to dress, and my friend, who's a full foot taller than me and looks the part of a proper rocker, and he asked, almost incredulously, "She's with you?"

My friend threw an arm around me and sort of snarled back in response, "Yeah, she's with me!" and I felt like a little sheep, or the creature eating watermelon in the "you are safe now, my sweet child" meme, but I also felt a little victory, peering through the veil of the illusion of exclusivity for one of the first times as we emerged from that odd standoff. In the green room, I ran into a friend who was interviewing the band for a magazine, and he ended up calling me later and including some of the 120mm film photographs I'd taken at that show in his article.



As a performer, I'm always so impressed when photographers can capture amazingly captivating stills from live shows, especially ones that can be rowdy and high energy. How does a photographer achieve this? Is it about shutter speed, a magic touch, witchcraft possibly?

There's definitely a bit of luck involved, but the majority of it is being in a decent position in relation to the performers and trusting your intuition. There isn't much you can control during a show. You're a rubber-band ball of anticipation, responding to whatever is happening onstage. I feel like, when you're starting out, it's a pretty reliable approach to just keep the camera on and keep shooting every few seconds through the interesting bits if you have an especially expressive subject. That way, statistically speaking, at least a couple frames won't suck. With more practice, the necessity to take a hundred exposures to get one good picture lessens. If you've got a knack for it, you become more attuned to the experience of working with a performer; they may not even be aware of your presence, but they are your partner in this form of art.

I won't lie, there is a certain amount you can essentially fake by way of a performer's lack of charisma through a photograph, but the most powerful work, I think, requires a degree of chemistry between the photographer and the subject. You have to be able to feel like you're a part of the performance, because you are, in a way.


BEECHWOOD
Any interest in putting together a photo book/zine/etc? What are your hopes for your work in the future?

I have been toying with the idea of publishing an art book for a while, so I've been doing some research into methods of going about it, but I'm fairly particular. It will happen one of these days. I can only hope it will be met with some interest, haha. In the meantime, I would love to show some work in an exhibition. I was in talks about doing a show prior to COVID closures in 2020, but that was stalled indefinitely, so I'm back to square one in terms of planning. I think we have a vibrant scene; it'd be wonderful to organize something with a collective of other photographers in the community if there was an obvious choice for an exhibition venue.

In addition to that, I hope to continue shooting and working with more artists who inspire me to make interesting, lasting work together. When photography was new, it was commonly believed that being photographed took a part of one's soul; while I know that's not true literally, I believe photographs are very capable of preserving people's essences, and that's something I think I will always enjoy.


FLORENCE WELCH (FLORENCE + THE MACHINE)
Finally, where should people get in touch with you/find your work?

I have a website, girlinink.com, which is undergoing some reconstruction but includes ways to contact me, and a hodgepodge of my live music photos and personal life pictures, along with sometimes too-long captions, can be found on my Instagram: @girlinink.