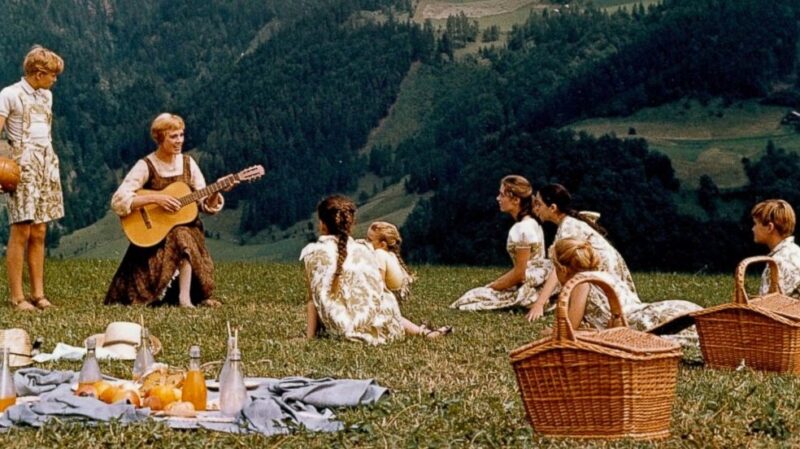 The Sound of Music
(1965)
What We're Listening To:
Music for Portable Speakers

the city's getting warmer. gather your friends and head to the park.

By The music team
6.1.2022
These are songs to listen to when the weather's perfect for lounging in the sun, but you don't want to trek all the way to the beach so you settle for the nearest park or climb a rusty ladder to get on your friend's roof. If you're ever handed the JBL bluetooth speaker on a whim, don't stress. We've got the
playlist
for you.
TAYLOR
"Venice Bitch," Lana Del Rey
In 2019, I listened to Norman Fucking Rockwell! at the East River while watching sunsets so heavy and lurid, the sky seemed to be burning. "Venice Bitch" is 10 minutes of sonic summer haze from one of my favorite albums ever.

"Helpless," Buffy Sainte-Marie
I blasted this song while driving under LA's cobalt-blue December skies. I was probably on my way to a flea market or a hiking trail… Now I can hear car tires humming against the freeway every time I listen. I love Buffy's voice so much. This song feels like a healing balm for my heart.

"See You Again (ft. Kali Uchis)," Tyler, the Creator
Every time April hits and the city turns green and bright and alive, this song falls back into my rotation. I can't really help it—optimism takes over me, and I just roll with it (it's so much fun).
LILY
Geography
, Tom Misch
I truly believe this is an album for any occasion, but specifically great for fun in the sun.
"Wraith Pinned to the Mist and Other Games," Of Montreal
One of those songs no one knows the name of but gets everyone groovin'. Sunshine in music form.
MARGARET
"Pineapple Skies," Miguel
When I hear this song, I think of white wine and sunburnt skin under a Comfort Colors® t-shirt. Someone's cooking pasta in the kitchen, and you don't feel the need to take a picture of the sunset.
"Always On My Mind," Nané
Now that the sun has set, this is the perfect song to see your friends googling the lyrics of and adding to their summer evening playlists.
"Grant Green," Mr Jukes, Charles Bradley
By this point, we're all wine drunk, dancing barefoot, and feeling the rush of summertime sweetness.
JULIA
"Pain Without A Touch," Sweeping Promises
This gives me a Prospect Park friend picnic. I'm imagining listening to this with gin and tonic cans and ice pops from Trader Joe's.
"Nothing Matters When We're Dancing," The Magnetic Fields
Okay, romantic picnic for sure. It's definitely a specific choice, but the Magnetic Fields have this ability to embody a cute-awkward moment.
ERIN
"Jettin'," Digable Planets
"Perfected Steps," TOPS
"Stoned at the Nail Salon," Lorde
What's a social gathering without a little collective yearning?
LAYLA
"World Princess part II," Grimes
This song is an instant crowd-pleaser and always how I want to feel when I'm outside in the summer. It makes me feel like I'm licking a popsicle made out of acid.
"Seether," Veruca Salt
I start to crave the music of Veruca Salt when it starts getting warmer outside. I love the punchy vocals and classic 90s chords, and if someone on an adjacent blanket in the park started playing "Seether," I wouldn't be mad.