Peer Review of Spotify Profiles

If you're obsessive about music, your spotify profile can be like a public diary. Here's what we learned about each other.

By the music team

06.07.2023

A REVIEW OF MIGUEL'S PROFILE (by Taylor)
Public playlists:
133

Total playlists:
157
The first thing I noticed about Miguel's Spotify is that many monthly playlists have cover photos of the same tree in different seasons. Looking at it's like watching the tree's leaves fall and flourish again, compressing the past year or so into a brief slideshow. The tree is lush under a blue sky for the "august22" playlist while "april23"'s photo is sparse and gray (but has visibly more leaves than "march23"—progress!). It reminds me of the ways that music can guide us through time, and playlists can act as time capsules.
Before the tree photo era, I noticed some monthly playlists are titled after poems. Jane Hirschfeld, Grace Paley, and Jose Olivarez. "
I loved the world so I married it
" is what first caught my eye—a sweet poem that feels fitting for a playlist title as it contains the lines, "my most treasured possessions: a six piece with lemon pepper & mild sauce on, all the honey of a slow kiss, my Apple Music playlists."
I feel like there's a meditative quality here. Music acts as a centering, reflective space. That said, it never takes itself too seriously. There are several playlists containing instrumental and classical music titled variations of "bangers": "bangerscomp," "bangers4," etc. It's also clear that music brings people together in Miguel's life. There are many collaborative playlists and playlists for loved ones: "
C&O's ultimate roadtrip
" is a magnum opus of car radio classics and sweet vibes.
Overall, the music is pretty eclectic. There's a good amount of instrumental, ambient, and jazz, but these meet pop and hip-hop and indie rock alike. Instead of genre, the organizing factor for most of these playlists—especially those from the past couple years—is time. They collect whatever tunes fell into Miguel's orbit during a given month. Like daily life, this grouping can be haphazard and unexpected. From "
april23
": Taylor Swift into The Smashing Pumpkins into Bach into The Weeknd. A collection of songs that resonate with you at a given moment can be like a portrait or diary. Part of me wants to read liner notes by Miguel accompanying these tracks. But then again, the mystery is part of the fun. Even as we make our individual playlists that may only be fully legible to ourselves, it comforts me to know we're all watching the seasons change together.
Miguel's Spotify
A REVIEW OF TAYLOR'S PROFILE (by Adam)
Public playlists:
98

Total playlists:
202
While I was looking forward to writing about Taylor's iconic Spotify profile, I felt this underlying pressure in the fact that Taylor has been on the streaming platform longer than any of us. To add to this, I think I was the last to get on it as I often am with the internet. The earliest date I could find was November 21, 2015 from her first playlist titled "
happy indie rock
" including adolescent bangers like GROUPLOVE's "Tongue Tied" and Foster the People's "Helena Beat." In those days I was still youtube2mp3-ing classic rock tracks onto iTunes and staying up until 4am on school nights listening to Pandora under my sheets.
Most of Taylor's early playlist output is focused around different kinds of drives, whether it be alt, foggy, or "
roadtrip jamz
." These are playlists containing anything a happy/sad LA indie teen could want for their long commute in the freedom of a fresh driver's license. Most of the playlists, especially the early ones, are concise, filling out at around 30-40 songs or so. It's a nice little snapshot into that specific time and place that doesn't overextend the moment in which it was created.
Everyone involved in this article can probably agree that we hit our stride with music curating in our college years. The playlists became more expansive, and the genres began to blend. Leaving the high school world, it's much more of what music satisfies you and less of a general base of tracks. The change is hard to describe in words but can be seen as the deeper cuts start to outnumber the more popular songs that maybe you've heard one too many times. Taylor is definitely an indiehead through and through but she's not closed off to other genres, a trend that grows ever stronger as the playlists get newer. Always great seeing the presence of internet indie like Sidney Gish and TV Girl, perfect examples of streaming finds that might slip away otherwise. Some of the playlists have great photo selections that illustrate the vibe. Anything from a swimming dog to a misty chandelier to a rockin' photo booth pic with Lily, all you have to know about those songs is in the visual.
The most recent playlist, "
OUT out,
" was started only three days ago and added to less than 11 hours ago so maybe it's good I was slow to write this article. Not sure what the title means, but it starts off with "Blue Monday" by New Order so it's gonna be an iconic summer.
A REVIEW OF ADAM'S PROFILE (by Lily)
Public playlists:
256

Total playlists:
272
One thing I know about Adam is that he is a big Music Cataloger, something I respect greatly. The first thing I noticed while scrolling through his 256 public playlists was that there is a lot of variation in titles, genre, and means of categorization. He has a playlist of what he deems to be "the best of" every decade going back to the 50s, with another playlist of the best of everything before the 50s. Each of these has a couple hundred songs. The dedication is admirable. He also made playlists for his favorite songs from the past few years.
One of my favorite of his playlist is "
Let's Go to a Cabin and Make Music
" which has a whopping 1,797 songs on it. Something I appreciate about Adam is that he is not afraid to add an entire album to a playlist if it fits the vibe. Another one I love, which I see him listening to often, is "
Hey I Know That Song
," a playlist with 6,372 songs. The description reads "Collection of Songs I Know/Good for memory." He has been adding to this playlist since 2017.
If you scroll down far enough, you get to a chunk of alliterative titles for playlists for friends, including "Sam's Songs," "Chance's Chants," "Hala's Hymns," and many, many more. While most of these have only 10 songs, I have no doubt they were curated with extreme care. Sometimes less is more. Scroll further and there are even more playlists made for others with their names as the titles. Adam is obviously a person for whom sharing music is his love language.
At the very bottom of Adam's list of public playlists is one titled "
I'll See You Soon
." It has a still from
Before Sunrise
as the cover image, and the description reads "Songs for the time being/you're gonna have so much fun." I really love how vague this one is (was it made for someone in particular? Just for Adam?), and the placement of it at the end of the list makes it feel like the outro of a long film. It's chock-full of beautiful, hopeful, slightly existential songs.
I truly enjoyed this investigation of Adam's profile. I was already in awe of his music cataloging skills (you should see the spreadsheet he has for his vinyl collection), and I am grateful to have this incredible resource at my fingertips.
Adam's Spotify


A REVIEW OF LILY'S PROFILE (by Miguel)
Public playlists:
136

Total playlists:
564
Lily Crandall wrote her NYU thesis on Spotify and if you know her, you know it'll come up in a conversation from time to time.
One thing quickly became abundantly clear about Lily's profile—she loves to repeat a song over many various playlists. I quickly dubbed this as "Lily core" and started developing a playlist of songs I was seeing over and over again. Lily has playlists for the changing of the seasons, one's many moods, getting to know certain artists (there is both a "voxtrot for beginners" and a "
voxtrot <3
"). I counted 41 (public) playlists titled simply with someone's first name, some lucky friends getting up to a 3.0 or 4.0 version of the playlist. The "
Cita
" playlist, for example, has gotten regular updates all the way from 2017 to 2022, reaching 20+ hours in length. These are birthday playlists, and with every birthday you can watch them grow, adding dozens of songs to ring in another year.
Back to "Lily core," or alternatively, "Lily mode." As her friend, I have my own preconceptions of what Lily likes to listen to, so of course as these songs made repeat appearances in her Spotify, I excitedly added them to this mix. Bruce Springsteen (shoutout to Montclair, New Jersey), Wet, Perfume Genius, and Samia were all represented off the bat. Then a wide array of songs like "Sweet Disposition" by Temper Trap, "4Runner" by Rostam, "Night Shift" by Lucy Dacus, and "Mr. Blue Sky" by Electric Light Orchestra kept recurring across playlists. I started to consider what Lily mode might really look like, and brought shoe-ins Alabama Shakes, Cage the Elephant, Bright Eyes into things. Finally, I returned to the indie giants of our time that I know any Lily mix would be remiss to overlook: artists like One Direction, Taylor Swift, Lorde, and Arctic Monkeys. At only 26 songs, it was an extremely brief study into someone with boundless commitment to music that she loves.
Lily core
I updated this mix three times over the course of writing this piece. Each listen brought me closer to my relationship with Lily and music. I thought of conversations about what makes up great songs, memories of shared concert experiences before we knew one another, and how I've grown with the music we have both appreciated over the years. I was listening to "Robbers" by the 1975, and finding myself fully engrossed with the familiar lines:
She says, "Babe, you look so cool
You look so cool, you look so cool
You look so cool, you look so cool
You look so cool"
It was the beginning of June and I was on a train going to Valencia for the weekend. Nothing else mattered but that moment looking out the window, and everything was a bit better for this reminder of a wonderful song my friend Lily also loves.
Lily's Spotify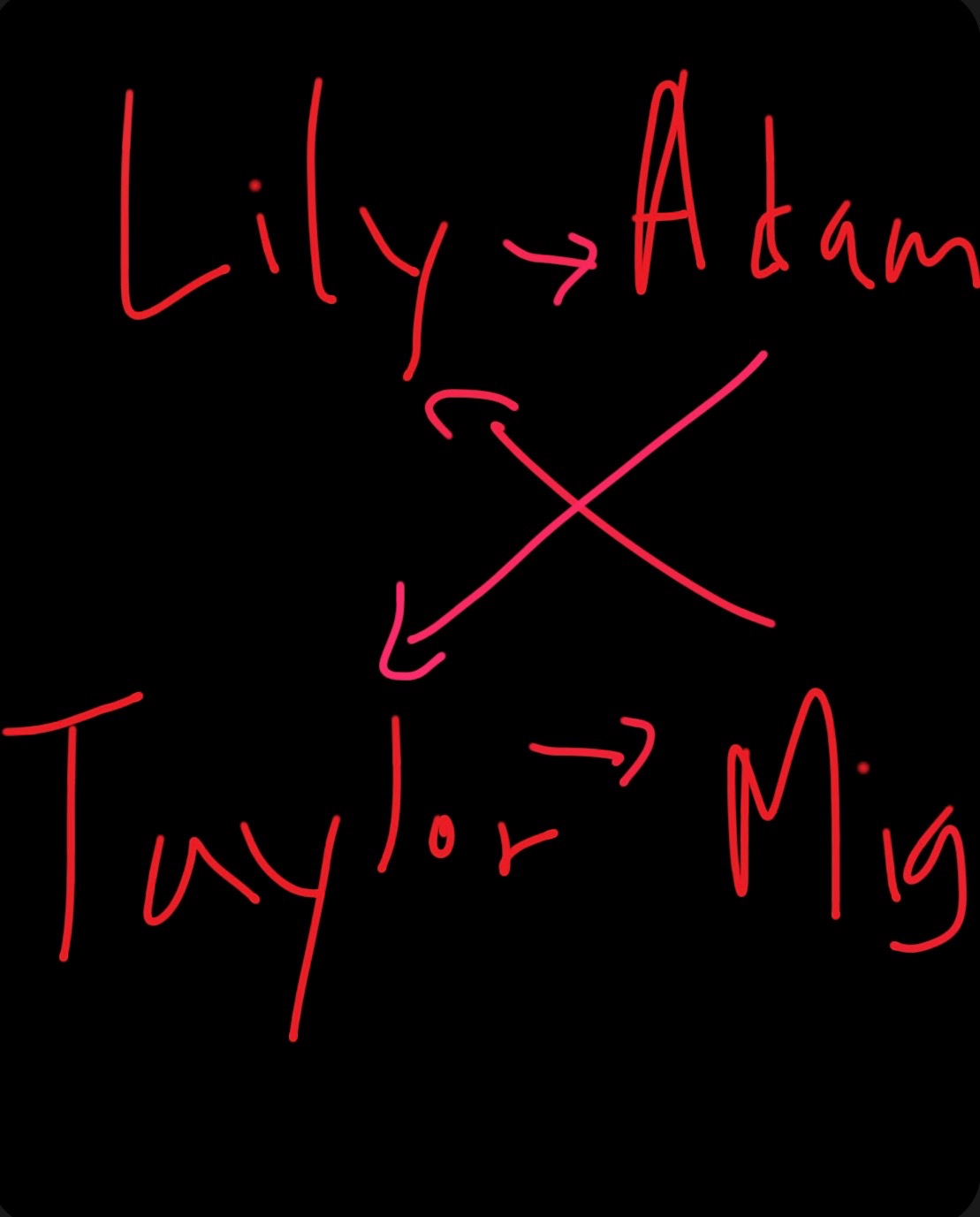 The drawing Miguel made to assign profiles.