Spirited Away
(dir. Hayao Miyazaki)
What We Are Listening To: Liminal Places
The transient spaces between reality and somewhere else have a very specific vibe. We tried to pin it down.

By LILY CRANDALL & the music team
3.16.22
Your local deli. Your hometown Kohl's. The gas station you stop into on the way upstate to get your chocolate candy of choice. Your mood. These liminal places & transient spaces between reality and somewhere else have a very specific vibe. We tried to pin it down.
Check out the playlist here.
CATH:

"R.I.P. Burn Face," Cocorosie
I like to consider the moment between when you smoke weed and when you realize you're stoned to be a transient place where thoughts and sensations almost sojourn into a new void of time and space. I encountered this haunting song during one of those journeys at a college party. Sierra and Bianca Cassidy crooning "Flowers for the lost at sea" was the anchor I needed to find a stopping point for my journey. Even though I didn't know my specific destination, I knew I was there.
"as long as the ropes unravel fake rolex will travel," Dean Blunt
I listened to this song on repeat while I was waiting to get up after my first COVID vaccination at Medgar Evers College. For a moment as groundbreaking and apocalyptic as it felt (or was supposed to feel), this was the perfect song to hold my hand as my body acclimated to a brave new world.

"I Guess That's Why They Call It The Blues," Elton John
I sometimes question if the radio music gods-that-be like to joke around with us. This song crept up on me my first summer in New York while I was waiting in an insanely long line at the grocery store just to grab six eggs and sweating in places I didn't know I could sweat. I didn't know if I should laugh or yell.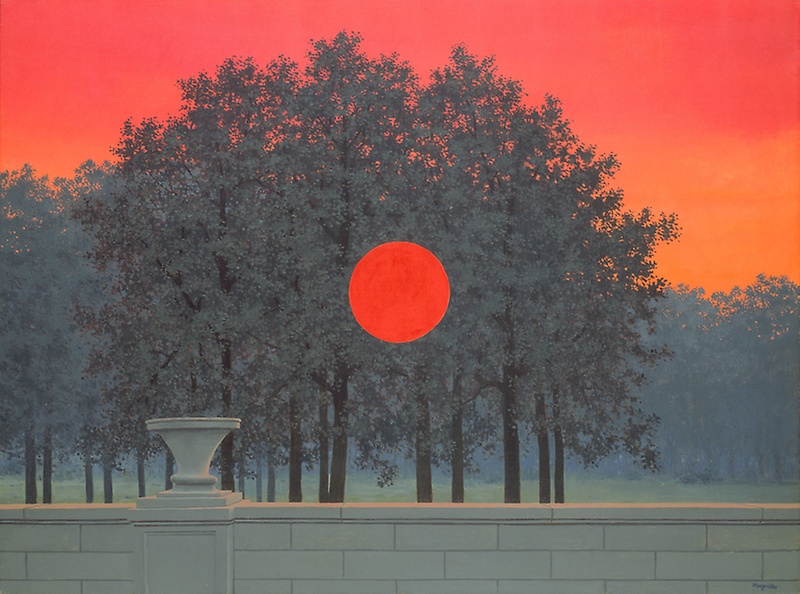 "The Banquet," René Magritte
TAYLOR:
"Heaven," Talking Heads
In heaven, the band plays your favorite song all night and kisses never end. But blissful moments are meant for us to pass through: "Heaven is a place where nothing ever happens."

"Please, Please, Please Let Me Get What I Want," The Dream Academy
An instrumental version of this plays during the museum scene in
Ferris Bueller's Day Off
. I loved this scene at 12 and I love it at 22. Senior year of high school was a liminal space—so much of life was about the future, but I wasn't in that future yet. I felt present when I stood in front of paintings in quiet gallery rooms.
"Um Um," Sega Bodega
Just close your eyes and listen. It sounds like a memory suspended in your mind, disappearing as you try to hold it close.
Lindsay:
"Hawaii Mustang," Connor Kelly & The Time Warp
Let the first few seconds of pure guitar-strumming bliss take you away to a dirt road on an island somewhere. 10 seconds into this song's intro, I was sold—I immediately added it to my saved songs and never looked back.


"Good Recipe," Ruby Waters
Ruby Waters sashayed into my life with "Quantum Physics," and "Good Recipe" is the latest jam I'm hooked on. The Canadian singer-songwriter hums and belts emotionally charged lyrics to quite literally awaken your "heart, soul, and body" through an intimate, emotional, and intoxicating love song. One listen to this and you'll be humming your way down the street in search of something to electrify you.
If This Isn't Nice, I Don't Know What Is, Still Woozy
I've been a Still Woozy fan since the days of "Habit" and "Goodie Bag," so this was an obvious choice. Let this album's funky grooves glide you through your Sunday night zen or supercharge you on your walk to work. This album hits all the chords and all the vibes. Upbeat while not being too stark for an early morning walk, you really can't go wrong with this one.


Julia:
"Haldern," Black Country, New Road
From BCNR's second album Ants From Up There, this track is a dark meditation, and the relationship between the keys, strings, and horns along with Isaac Woods's rumbling vocals creates an out-of-body, reflective experience. Every time I'm on a walk, this track gets added to the queue as I plunder the city sidewalks and think about the daily motions of life.

"Keep It Clean," Camera Obscura
For a the lighter side of transient listening, Camera Obscura is always a good choice. I often find myself listening to one of their songs and instantly being dragged into the rest of the album, almost as if it's not a choice at all. Off the album Underachievers Please Try Harder, which was released in 2003, this track still maintains a fresh sound and lyrical value that only increases with time.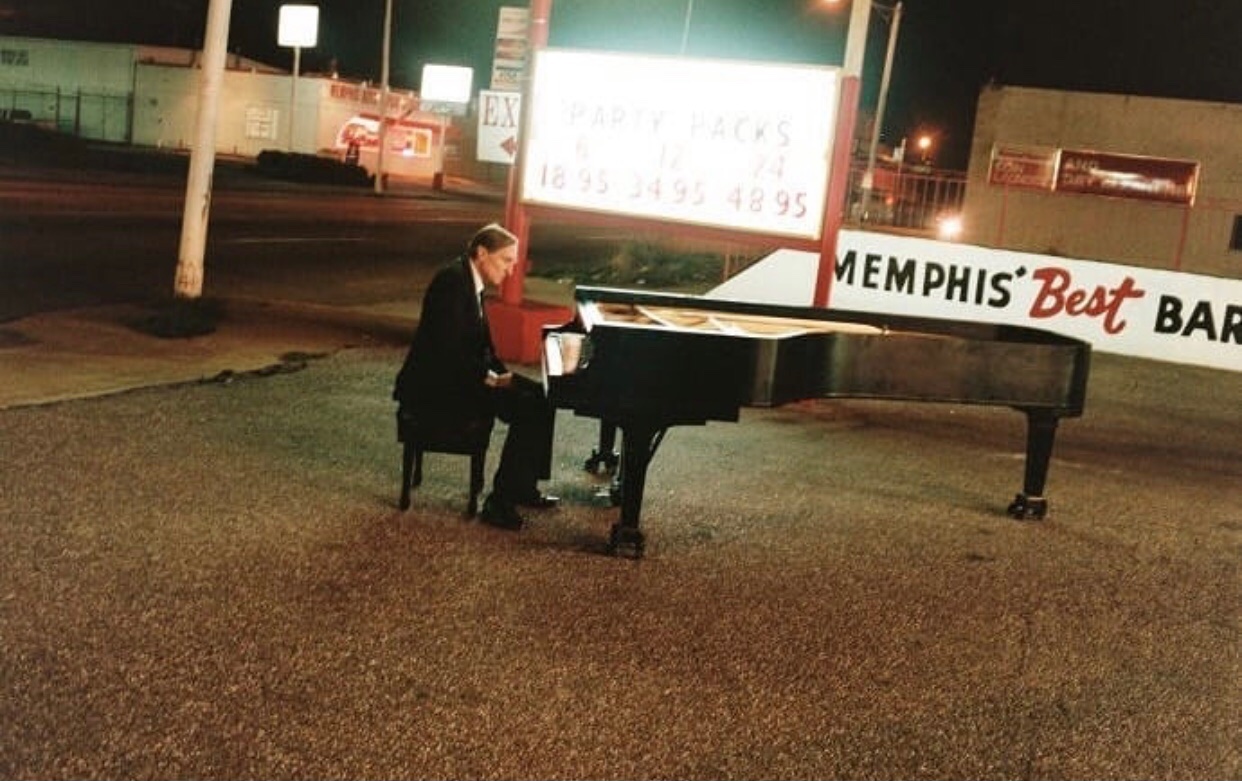 William Eggleston photographed by Juergen Teller
LAYLA:
Gunfighter Ballads AND TRAIL SONGS, Marty Robbins
If you want your life to feel like a cowboy movie, listen to Marty Robbins. You can hear his influence on western music, and this track feels like the basis of every song played in a haunted grocery store. He makes me feel like I'm on a trotting horse with a gun in my holster even when I'm on the subway.



MOLLY:
"Tezeta (Nostalgia)," Mulatu Astatke
Perfectly titled "Nostalgia," this song always makes me feel like I'm floating through a distant memory. The melody is melancholic but hopeful, sweet and sad all at once.


"Ferris Wheel - Terrace Martin Remix," Sylvan Esso, RoberT glasper, terrance martin
Summer in New York is such a magical and ephemeral season. This remix of "Ferris Wheel" exudes the transient, sticky heat of a New York summer. It's the pure joy of relishing in the long, hot days and nights until the cool weather ultimately takes over.



MADELINE:

"Bunny Ain't No Kind of Rider," Of Montreal
"I need a lover with soul power / And you ain't got no SOUL POWER." In a perfect world, I would love to spin around to this in the bodega at 3 AM after dancing all night (snacks in hand).


"Heaven or Las Vegas," Cocteau Twins
This song feels like the opening of a Sofia Coppola movie and sounds like water; transient and ever-moving. Perfectly melancholic.


"Bubble Pop Electric," Gwen Stefani ft. JOHNNY VULTURE
Off Gwen's first solo album (with the most iconic album cover), this specific song feels just right to actually be playing in the local deli. "Tonight I'm gonna give you ALL MY LOVE / In the backseat."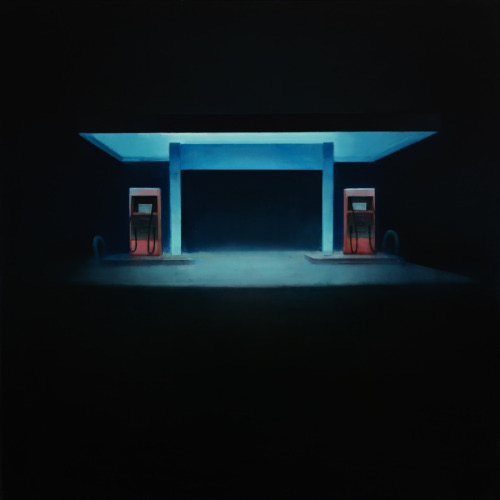 Painting by Trevor Young
ADAM:
"Blue Rondo À la Turk," The Dave Brubeck Quartet
This is a jazz track I find myself returning to on many museum trips, especially when I used to visit The Met and pay a buck to get in. Dave Brubeck makes pretty and accessible jazz that can help your mind wander.
"Stoned Again," King Krule
King Krule sounds like he was created in a liminal space. There's an eerie sentiment that envelops most of his tracks and creates this unique sense of dreariness. It often sounds as if he could be coughing up blood while singing, but not in a metal kind of way—in more of a sickly manner.
"Dawn Chorus," Thom Yorke
Anima can be an intense project to deal with. This track feels like driving away from a big ordeal and into an uncertain future. Maybe you're lost at a gas station in the middle of Ohio. There's a little hope that comes through in the instrumentation. Overall, it comes out sadly beautiful.