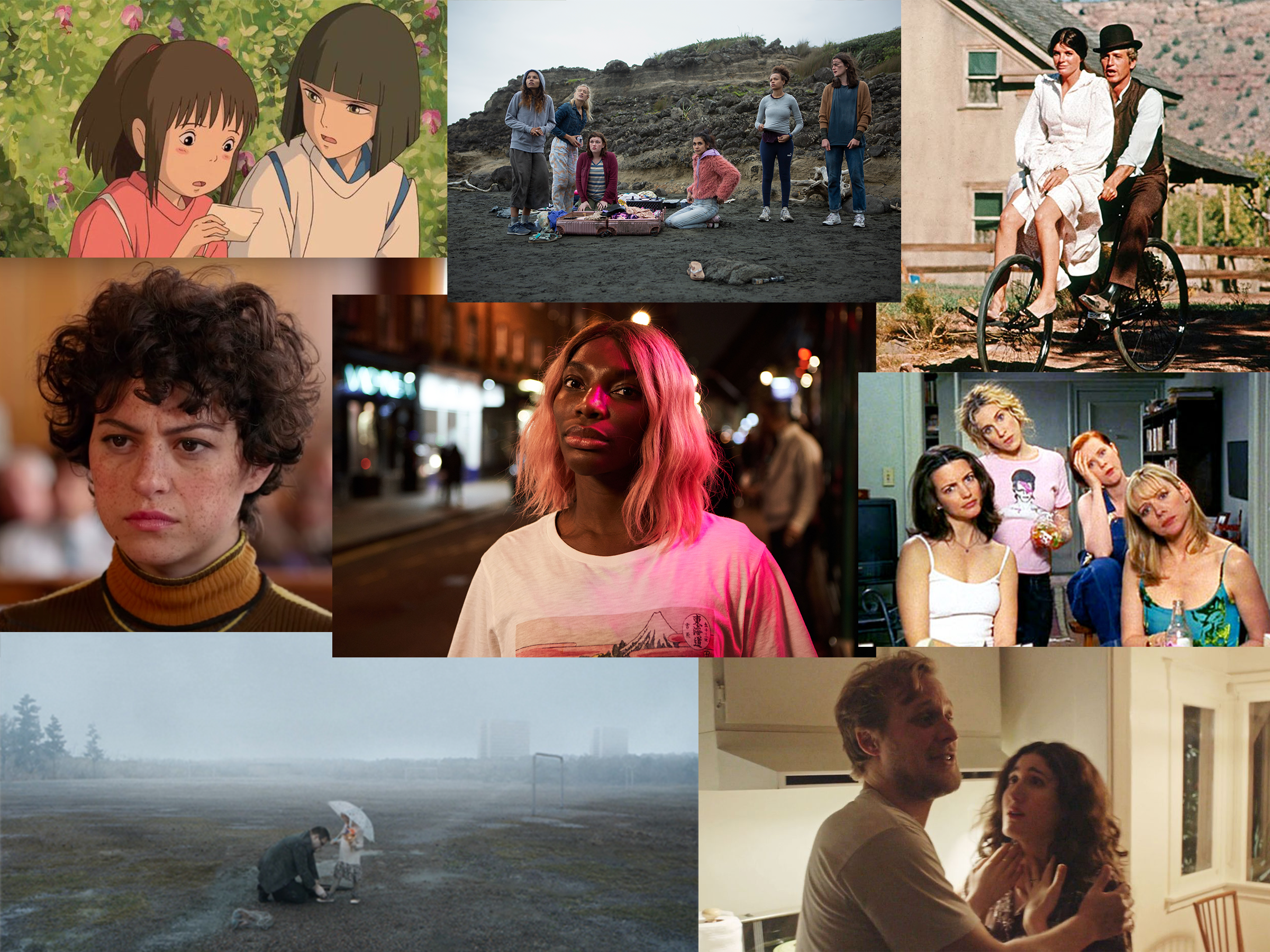 What are You Watching
Post Vaxx?!
A MONTHLY SERIES FOCUSING ON: WHAT WE ARE WATCHING, WHY WE ARE WATCHING, WHAT WE THINK, ABOUT WHAT WE ARE WATCHING!
INTRO BY CITA
FEATURING NOTES BY
AUVEEN DEZEGARAN
SARINA FREDA
KATE KIM
MAIYA PAScOUCHE

7.14.2021
As the world shifts back to normalcy, I find myself reflecting on my life during the pandemic, and what it looks like post.
The city is opening rapidly. Bars are opening, with lines wrapped around the corner. Concerts, galleries, and performances are starting up again, providing me with a plethora of opportunities of art to consume. Not to mention my social calendar becoming busier than… ever. I can't help but feel overwhelmed and intimidated after months of being in my pjs.
I find myself searching for solace in my downtime. What I am watching in the evenings after a long day of work or social events seems to directly reflect my comfort zone. What am I physically capable of watching right now?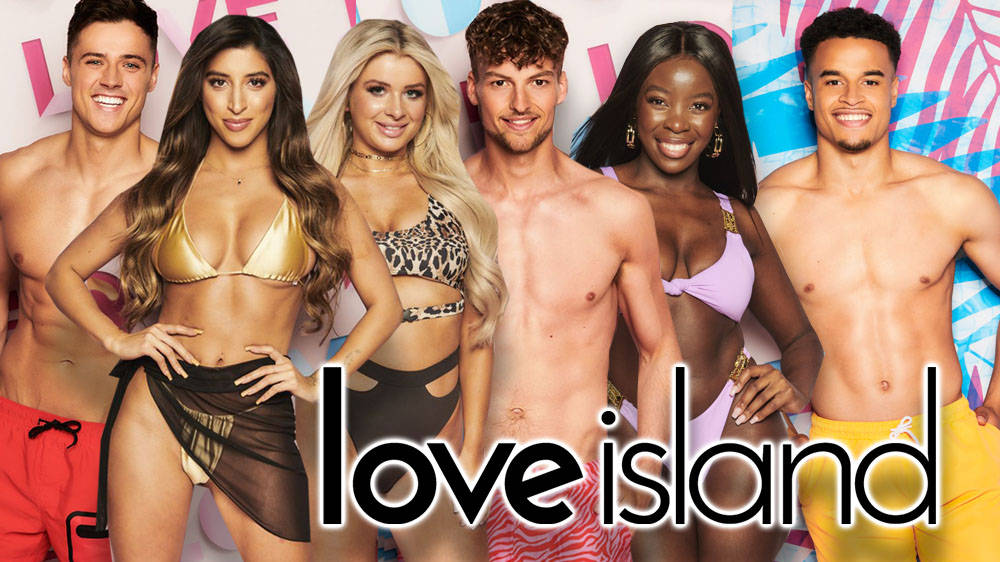 Whenever I feel down or unhappy, I find myself searching for an escape, a distraction from all the negative thoughts or worries in my head. I crave getting invested in the interpersonal stories in other people's lives, which comes to serve as a break from my own troubled mind.
Reality TV has cured my desire for escapism as I drench myself into the saturated, ~cheeky~ and charming world of Love Island (Season 6 if we are looking for specifics). Love Island centers around a group of "islanders" who come together in a villa to embark on a summer of dating, matchmaking, romance and ultimately a relationship, as new individuals enter every week. The show is paced at such a steady speed, with five episodes airing a week, providing the viewer the luxury of developing a dedication and care for the contestants and their relationships. I find myself thinking of the cast at such random points of my day, at times it even feels like they are my friends and I miss them! How is it that I feel so invested in these random British individuals from a reality tv dating competition show? Perhaps because I crave chaos and revel in their "banter". Perhaps because with the way the show is formatted, it feels impossible to not be attached to Demi's bad luck, or Shauna's self doubt or Sianese's pride or Paige and Finn's connection. But also, perhaps because they know exactly what they are doing and I am exactly the type of person to fall for it.
Electric, alive, chaotic, sizzling. Zola pops off the screen, feeling larger than life with mesmerizing performances and theatrical direction that adds a layer of self awareness to the chaos. I was most intrigued by the humanization of the performances, even as they were coated with a layer of exaggeration. The dynamic that was constructed between Zola and Stefanie felt like such a power trip with Stefanie organizing the chaos and Zola feeling like an outsider to the disarray. The framing device of the film utilized voiceovers of Zola's commentary while also focusing on her realistic and blunt reactions. This felt like a very effective choice as despite the mayhem, it was clear who's story we were focusing on and following due to the enhanced directorial devices.
The scene that stood out the most to me was when Stefanie, played by Riley Keough, softly and tentatively asks X, played by Coleman Domingo, if she could have some of the profits she made from her sex work, in which he intends to keep. Keough's performance entailed such a moment of vulnerability and a side of this character that we had not yet witnessed, creating the character to feel so much more complex and human than the poppy and abrasive caricature. This scene and Keough's performance serves as a character shift as the character goes from being one of the villains in the scheme to actually being a victim herself.
Forgive me, but I am going to go on a little pretentious film boy rant. I love slow cinema so much it's insane. I think everyone should at least give some "slow" films a chance. I hate that it's called "slow", but saying transcendental cinema makes me want to shoot myself and condemn film students forever. But I digress. Slow cinema sounds intimidatingly boring, but once you appreciate it and get into it, it can really transform the way you watch movies. It's purely time based, (hence, the "slow"), but it has been a real comfort to watch over the last couple of years. After being inundated by Blockbusters, Action Movies, and the like, I've found refreshment and connection to many films in the slow cinema genre. (Sidenote: doesn't mean I don't enjoy a Good Time, I am not an asshole; Shrek is one of my favorite films). Anyways, the time during which I watched About Endlessness couldn't have been a better moment to watch it. Theaters were still at limited capacity and at that point I had been floating around New York, crashing at friends' places (not a permanent resident yet) or taking the bus across the George Washington to go back home to my family. (All vaccinated and ready to fuck––yes, my family too). Floating is fun for maybe one or two weeks, then it gets tiresome and lonely. Staring at the West Side Highway from the bridge out of the dirty window hits different when you know you just have to go back to New Jersey eventually. Two friends and I went to see it, and we came out of the theater disoriented and teary-eyed. I love when I walk out of a theater and I hear a few movie-goers saying "What the fuck was that?" Meanwhile I am having a panic attack from being too deeply moved. After being around the same four people for months, seeing human existence on the screen being so nothing and so everything at the same time, was just a complete TRANSCENDENTAL experience. I think my soul floated above me watching the film as my body was watching. Human experience is everything to me. After all, what is existing on Earth besides experiencing it with others? And the film captures the big, the small, the "meaningful", and the "meaningless" all in such an objective yet weirdly loving, dead-pan funny way that only Andersson could achieve. If you've been feeling particularly apathetic or misandrist, watch this film. You'll definitely be feeling something at least: boredom, depression, euphoria, inspiration.
In complete contrast, I have definitely had days where I just had to retire the pretentious film boy act, close the Criterion Channel, and watch some feel good shit. Days I've just felt drained and needed to watch something so very escapism that I forget that I work a minimum wage job and barely make enough to afford my new apartment. When I feel like watching something mind numbing, I usually watch cliche rom-coms or old action movies, but around the time New Yorkers started walking around maskless, I saw Butch Cassidy and the Sundance Kid for the very first time. I am a shitty film student and I am not afraid to say it. (I also have not seen Pulp Fiction and the reaction I get from people when I tell them that makes me want to never watch it out of pure spite). I had just gotten off from work and arrived at a friend's apartment at 12:30 AM. I suggested we watch The Road Trilogy by Wim Wenders because he had been raving about it, but with a sly smirk, he put on Butch Cassidy. I had not had a good time like that in so long. It is just feel good with emphasis on the Feel Good. Really, I had avoided "old" films like the plague in high school but I am not lying when I say I genuinely enjoyed Butch Cassidy. It gives you all the endorphins and pure gratification from Marvel movies, but because it is actually good filmmaking and, yes, a "classic", you don't feel guilty watching it instead of Seven Samurai when you're having a movie night with a bunch of film students. If you don't like good vibes, friendship, the old west, and cowboy outlaws (especially as a city dweller), I don't know what to tell you, man. Sorry you don't like having a good time?
This piece is called: The Basics Really Do Get It.
Teen drama is not a genre I have spent any time with, at all. I missed my Degrassi window, and by the time it died, I had already identified myself as someone above it, someone not willing to spend my precious time on such a mind numbing scheme of a show. At 12 years old I thought I'd rather spend my time watching high-brow things like
Pawn Stars
and
Cake Boss
. I had only thought a fool would spend their time deep in the emotional throws of these hot adults playing kids. And as a young adult I have found that to be especially true with this contemporary iteration of the genre with
Riverdale
and
Sabrina
. It has been so easy to claim I am above it all. But. There really is something to it, I gotta say. The Wilds is one of the first YA/teen dramas I have ever watched in full. The show is essentially about a group of girls who are on a flight to a therapeutic retreat, when they crash land on an island and have to find a way to survive.
Lord of the Flies
meets
Lost
, but Gen Z gals. The show's structure is such that each episode centers around the backstory of one of the girls, we get to see who she is and who she was and why she needed this therapy. Literally every theme of teenage girlhood is touched upon over the span of 10 episodes. Some inlude, but are not limited to: eating disorders, sexual assault, queerness, suicide, racism, and daddy issues. And although a few (a few) moments were in the cringe world, I found myself losing myself to these girls and their stories. Actually crying and actually laughing and actually wanting to throw up (in a good way). It's all so very simple. Performance wise: challenging. Suspense wise: thrilling. But ultimately: simple. There is something beautiful in the simplicity. You do not need to work very hard to watch this show, it's incredibly accessible. And I kind of only want easy things. My gCal is hard, but
The Wilds
is easy and that makes me feel good. It may be basic, but it is pure.
And it's easy to think that it was created solely for the capitalist agenda of Amazon's streaming service to increase their youth audience. A scheme. Yet behind the simple facade is the truth that many of these twitter stans are speaking to: this show is essentially entirely made of girls. Not women. Not even young adult women. I'm talking GIRLS. Just girls. No boys. Not one. (yet). Is that not insane??? And I can't help but think about what I was watching when I was 15 (not 12), when I could have used some strong and powerful female influence. I was on
The Office, Parks and Rec, How I Met Your Mother, Arrested Development, Breaking Bad, House of Cards
, and of course, MTV's
Girl Code
. Some of it required reading, some of it very much not. And! Essentially no teenage girls (with the exception of Maeby). So the fact that this show even exists, that teenage girls/people can see themselves on screen like this, taking up this much space and holding the power they do without any reservations, is nothing short of inspiring. So thank god for
The Wilds
and thank god for teen drama. Filling a void I never thought I needed filled.
Also been revisiting these.
They are just so good. They are geniuses. America's favorite clowns. May they never stop. It's exciting to see what they were making seven years ago on Youtube and to track their continuously growing careers and also how their artistic voices have changed and maintained.
Cita is watching:
I have never seen any of this series, only blips here and there...and… wow.
My sophomore year of college one of my friends tried to get me to watch and I absolutely detested it. Now, I can't seem to stop. It is the absolute most pleasurable experience for me to watch right now, because I simply cannot expend my mental energy on anything.
I find myself fixating on Carrie's insane and stunning outfits and her innovative hairstyles. I obsess over Miranda's cringe decisions and Samatha's courage. I begin to live vicariously through all of the characters on the nights I cannot bring myself to get out of bed and go to the nearest rooftop party. It's so easy for me to find comfort in every aspect of this show. For me, it has a sense of nostalgia of the pre-pandemic world that I didn't quite appreciate. Now that the world is opening up, I want to challenge myself to bring this energy into my life. Who says I can't clomp around New York in kitten heels? Oh, and also, even though the world is opening up all at once, I can still have a night in and watch Sex in the City and feel absolutely revived.
Another TV show I am just getting around to watching. It has taken me months to watch three episodes of this series. When all of my friends were raving about the show, I found myself retreating, assuredly deciding that watching a 'triggering' show, such as this one, wasn't for me. Unlike Sex and the City, I May Destroy You is a show I am unable to binge. This is for a variety of reasons, of course, but the main is that it is an experience that prohibits passive viewing.
I May Destroy You is not a show that you can watch while half listening, cleaning your apartment or doing laundry. When watching, it is all consuming. This, for me, is a result of the extreme power and captivating presence that Michaela Coel brings to the show, both as an actor and writer. Her brutal honesty and recounting of her story forces the viewer to participate, unable to turn away. And it is funny, because I find that the combination of a show like Sex and the City, one that I can easily watch while cleaning or multi-tasking, paired with watching a show such as I May Destroy You, gives me the perfect post-pandemic stimulation that I need and crave. Despite it taking me months to finish an entire season of I May Destroy You, each episode is a full mind and body experience, and I thank Coel for it every single time.
I truly cannot explain how fucking good this show is. Throughout the pandemic, I found myself latching onto shows with little meaning, substance, ~drama~ like New Girl (which I ended up disliking) and Friends (which I also ended up disliking). But these mindless shows were what kept me from pulling my hair out during overwhelming anxiety so, thanks, sitcoms! What I liked about them was their 1. Easy to follow, repetitive plot lines and 2. The length. It was so nice to just sit and watch 30 minutes of media over and over again. When introduced to Search Party by a dear friend, I was told "this show is so brilliant" and "im so in my feels in a really profound way" and that the episodes were only 25 minutes long. I was in! It would honestly be a crime to give any of this show away so I'll leave you with a few truths: Alia Shawkat of Arrested Development fame stars in it, you'll never know what to expect, and it's gut bustingly funny.
There is nothing like a bit of nostalgia to get me crying in the club. The club being my living room, crying being SOBBING. My pals and I decided to take a stroll down memory lane the past few months and rewatch these absolute classics. The favorite amongst the group remains the same since childhood: Spirited Away. There is something so hauntingly beautiful about so many moments and characters in the film that have stuck with us to this day. Chihiro and No Face riding the train, a million paper planes slicing Haku the dragon, Yubaba's big fat baby. I highly recommend a rewatch of each Studio Ghibli film this summer with a big box of tissues.

FEEL FREE TO LET US KNOW WHAT YOU'VE BEEN WATCHING BELOW.