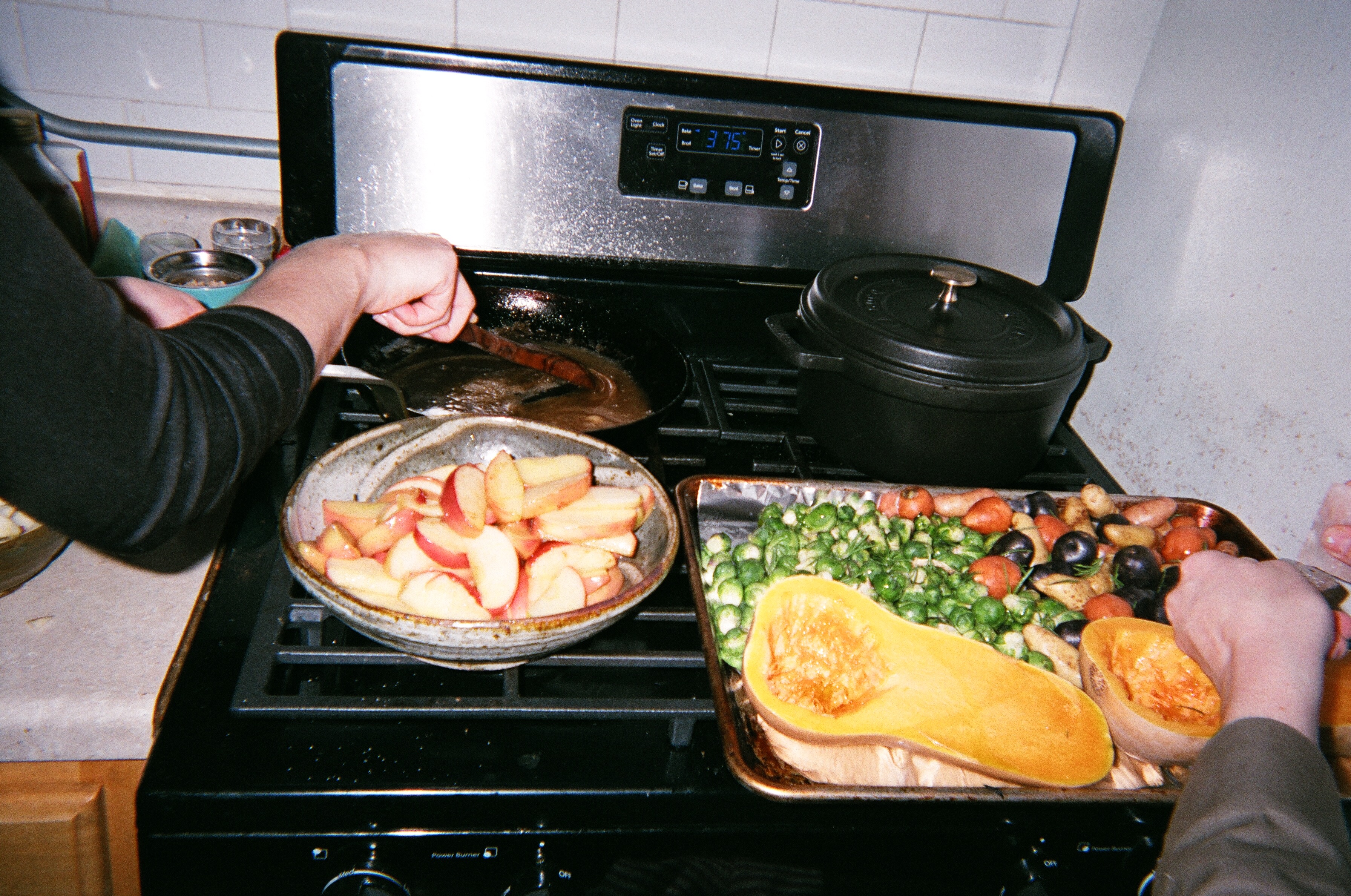 Photo by Taylor Stout
What We're Listening To: Gatherings

our soundtracks to the relationships that make the world feel a little smaller.

By LILY CRANDALL & THE MUSIC TEAM


11.17.2021
These are songs for gathering, songs for hanging out with friends, songs for chit-chatting with your favorite barista. Community comes in all shapes and sizes and these are our soundtracks to all of the relationships that make the world feel a little smaller.
Check out the playlist here
Lily is listening to

Boys & Girls, Alabama Shakes

Makes me think of Christmas 2016 and a weekend spent upstate with my family. Also, my mom likes Brittany Howard's voice a lot.

"Australia," The Shins

This song sounds like how hangin' out with your friends feels.

"Silly Love Songs," Wings
Maybe I first heard this song on Glee, maybe I didn't. That's not important.
Taylor is listening to
"The Steps," Haim
Two of my friends and I had a thing a while back where we were like, "We are Haim." We don't really have anything in common with Haim besides the fact that there are three of us, but it was so fun to send each other every picture of Haim and say, "omg us." Anyways, I love this song. The music video has three of my favorite Haim trademarks (and things in general): bralessness, vintage denim, and a Paul Thomas Anderson directing credit.
"A World Alone," Lorde
A love letter to a confidant, a co-conspirator. Maybe my favorite kind of love—mischievous glances masking unspoken tenderness. It reminds me of that one monologue in Frances Ha about that secret connection between two people that exists in the midst of a party. Except Pure Heroine-era Lorde sounds much cooler and irreverent about it all than Greta Gerwig's Frances: "I sound stoned. I'm not stoned. Thanks for dinner. Bye."
"Plastic Jesus," Tia Blake
I found this song after watching
Cool Hand Luke
with my mom. It was the start of the pandemic and everything was crazy, but that memory remains so cozy in my mind. The movie didn't really grab me until the scene when Luke learns of his mother's death and sings this song—originally written as a parody of Christian radio—in the prison bunks.
Miguel is listening to

"On Her Way," Pat Matheny
Pat means a lot to me, mostly because of the connection my brother has to his music and the experiences we've had centered around it. Whether it's been at home hanging out in the family room or on road trips finding places for ourselves, this music is so layered and lovely.
"Red Clay," Jack Wilkins
The perfect music for friends coming together after much too long, Jack Wilkins's album Windows is a go-to when bringing people together. I love how it doesn't dominate a space, but rather seems to always fill it appropriately, highlighting the stories people tell while providing an exceptional offering of groove.
"Abbracciala abbracciali abbracciati," Lucio Battisti
It's getting colder outside, and while I'm enjoying the change now, I know it won't be long until I want to transport myself to another season. This song feels like the third act of a film, once everyone's cards are out there and we're left with one another. It's a sliver of sunlight through the window and between buildings, the crispness of a fresh fall apple, the clear-headedness of getting your laundry done. We're always aspiring to be greater than ourselves, and this song is perfect for when you simply want to reminisce.
Adam is listening to

"Genius of Love," Tom Tom Club

A grooviness for the ages. I don't care what age you are, this song will make you feel it. It'll get those heads bopping. It's brought pleasure to so many gatherings I've been to, whether it be a party or a nice dinner with friends. It's so well-known at this point that I don't know what else I can say about the joy it brings. Check out the animated music video to get the full glamorous and groovy effect.

"679," Fetty Wap ft. Remy Boyz

Anyone remember when Fetty Wap was releasing bangers only and ruled over music for a few months? That was a fun time and it felt weird that right when I was getting back into this song, he got arrested and made the headlines again after a looong time. I feel like this one was always playing second fiddle to "Trap Queen," but that's why it's easier to return to for a good time. I can't wait until the day when I'll go to a party and I can freak to this song and "press rewind tho."

"Best I Ever Had," Drake

Drake is so embarrassing. I can't and won't try to defend this goofy-ass loser but this is something to play for a group. I've been listening to this a bunch recently and I'm not quite sure why. It makes me giggle because he's just so ridiculous and young Drake is beyond corny. It brings you to a time so many years ago when music like this just existed for lack of a better explanation. SMH.
Emory is listening to
"September," Earth, Wind & Fire
This song will always remind me of my first semester of college. I danced to it in a dorm room with three people I had just met. It was the perfect song for four awkward semi-friends because everyone at least knew that one famous line.
"Outro," Vulfpeck
Another first semester story (I guess I was desperate for community at that time, how strange!): my dear friend Lily Crandall, who I met on a NYU Welcome Week "Musical Neighborhood" walking tour, showed me this song in the first couple of weeks of us knowing each other. This song will always feel like realizing that I just made a new best friend. Now I play it for everybody! (Bonus points to this song for having no words so people never have to worry about feeling uncool for not knowing them.)

"Pull It Together," The Greeting Committee

This one is from my playlist called "getting the band back together," which I made in March 2021 and intended to be played at my first post-COVID indoor gathering with all of my friends, which I assumed would be a few months from then. Quite fittingly, it's a song about looking forward and getting better with help from other people.
Madeleine is listening to

"Sunday Morning," No Doubt
My mom and I LOVE Gwen Stefani. And her No Doubt era is my fav. The style...
"Sappy pathetic little me/That was the girl I used to be/You had me on my KNEES."
"For the Sake of the Song," Townes Van Zandt
This song shatters my heart and makes me giddy at the same time.
"Maybe she just has to sing for the sake of the song/And who do I think that I am to decide that she's wrong?"
"When My Baby's Beside Me," Big Star
This song and this band are SO Memphis, my home town. It makes me feel like I'm driving down East Parkway in September.
"Don't need to talk to talk to my doctor/Don't need to talk to my shrink …/When my baby's beside me, I don't worry."
Tessa is listening to

"Making Breakfast," Twin Peaks

Aptly named for post-sleepover kitchen dance parties, "Making Breakfast" puts me in the mood to dance and sing and make pancakes with my friends all at once.

"Funk," C-Dot 416, Shang-High

My friend Mark and I no longer communicate via words; all of our correspondence take place via music-sharing. "Funk" is the latest song he's shared with me and it reminds me of all of the music that we've passed back and forth over the years.

"Don't Swallow the Cap," The National

The National is reminiscent of so many things: walking the streets of Paris during my semester abroad, slow Sunday mornings drinking coffee with my brother, that one heartbreak. "Don't Swallow the Cap" specifically triggers all of those associated memories with the people and places that have shaped me.
Cath is listening to
"Tezeta (Nostalgia)," Mulatu Astatke

This song is a playlist must-have whenever I invite people into my space or have the aux cord at a casual get-together. Its easygoing tempo and gentle saxophone create the perfect mood for connecting with others (or helping to calm nerves when social anxiety kicks in… or for when you're too stoned).

"Once in a Lifetime," Talking Heads

I will forever associate this song with my group of college friends that became the pulsing heart of my senior year. Two of my college friends just got married and when this song came on at their wedding, it was "the same as it ever was" when we all ran to the dance floor to celebrate.

"Awake," Tycho

Nothing feels like "gathering" more than getting the aux cord privilege in a car full of white dudes speeding down a highway in Massachusetts at 1am on Halloween night 2015, putting this song on and have them all fall silent in reverence of this crowdpleaser (save for the one dude who broke the silence to say, "I guess you do know good music").
Follow COPY on Spotify.
.
Funk," C-Dot 416, Shang-High