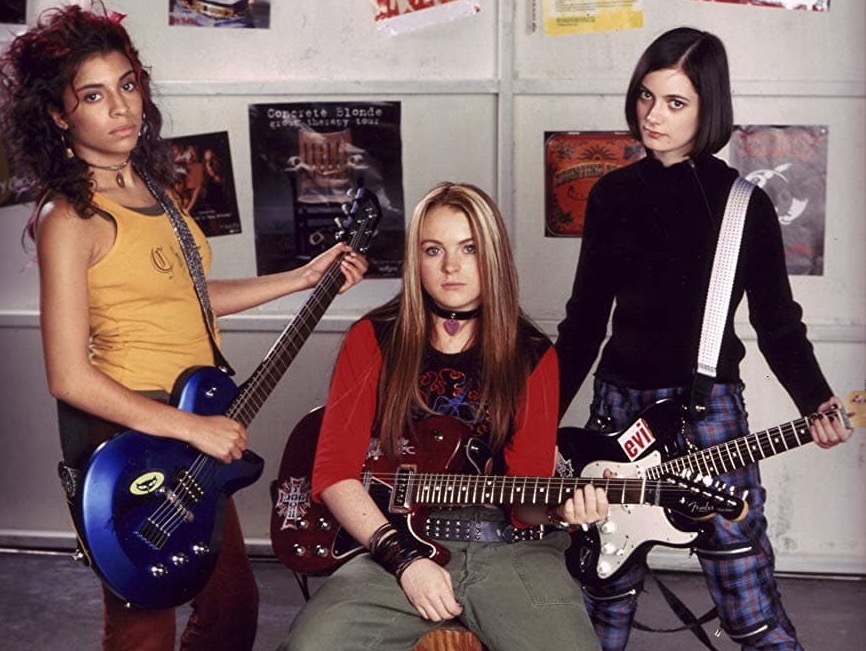 Freaky Friday
(2003)
What We're Listening To: Rage

MUSIC for ANGRy SPEEDWALKing. Check out the playlist here.

By The music team

4.13.2022

Taylor:
"Control," Mannequin Pussy
Yeah it's good to process anger, but sometimes I just want noise.


"Bloody Mother Fucking Asshole," Martha Wainwright
My favorite thing about Jennifer's Body is that the real villain is the pretentious lead singer of an indie-rock band. This Martha Wainwright classic eviscerates those guys who are hell-bent on making you feel inferior. It's rage-fueled, but ultimately still so vulnerable.


"November," Wednesday
I love it when a song explodes two-thirds of the way through. "The windows smirk at me, they're letting in the dark / There's nothing like the way you loiter in my heart!!!!!"


LAYLA:

"Terrorist," Heavens to Betsy
There's nothing like screaming "I'm gonna kill you" along with Corin Tucker.


"Smack a bitch," Rico Nasty
The perfect song for when something's grinding your gears. It feels like that exact moment of pent-up rage right before you're about to smack someone.



Madeleine:
"Ridin Spinners," Three 6 Mafia
Makes me think of driving around 2015 Memphis in my friend Buck's car with the volume ear-splittingly high. Nothing relieves rage quite like feeling the bass of Three 6 Mafia in your chest.


"She," Green Day
"Scream at me / Until my ears bleed / I'm taking heed just for you." My favorite Green Day song. I remember hearing it for the first time freshman year of high school at theatre camp. World was changed.


"Urge to Purge," Charly Bliss
This song encapsulates young-adult rage against the system. Help. Entering the world is certainly never what anyone expects. "If this is playing grown up / Hold my hair back as I throw up." Rage makes me think of being a teenager. Obviously.
Cath:
"16 Psyche," Chelsea Wolfe
A slow burn of a banger, Chelsea Wolfe knocks this witchy tune out of the park with a loyal drumline that serves as the song's backbone, explosive guitar riffs, and Wolfe's signature airy vocals. One of the most beautiful parts of this song is how you can feel it slither closer to its musical climax.


"Head like a Hole," Nine Inch Nails
The lyrics of this NIN classic get me every time: "Head like a hole / Black as your soul / I'd rather die than give you control." It's not as loud as some of the other angst-fueled songs I've listened to, but I consider it an obvious staple for industrial-rock lovers who want a tune to inspire some rage.


"STUPID," Ashnikko feat. Young Baby Tate
It's nearly impossible to not bounce around to this beat-heavy jam featuring Ashnikko's witty rhymes. "I'm sweet then I'm sour / I'm big boss Bowser" is one of my favorite lines to date.


Tessa:
"Oh No," Wet LeG
For the nights when I'm frustrated by the mundanity and triteness of adult life, "Oh No" gives some tongue-in-cheek reprieve, poking fun at these daily toils and our relationship with technology as an escape.


"Under The Table," Fiona Apple
Very few songs make me feel as empowered as "Under the Table." It's an anthem for women to think, speak, and act for ourselves, despite what others may want or urge us to do. It's a great Fuck You in times of rage and a reminder for all of us ladies to never shy away from using our voices.


"Elephant," Tame Impala
When I feel angry, I take long walks to clear my head and get lost in rock songs with strong guitar riffs. "Elephant" is one of my favorites for these situations. With a heavy beat and rhythmic shifts right as the flow gets familiar, it's perfect for blasting at full volume and jamming out.