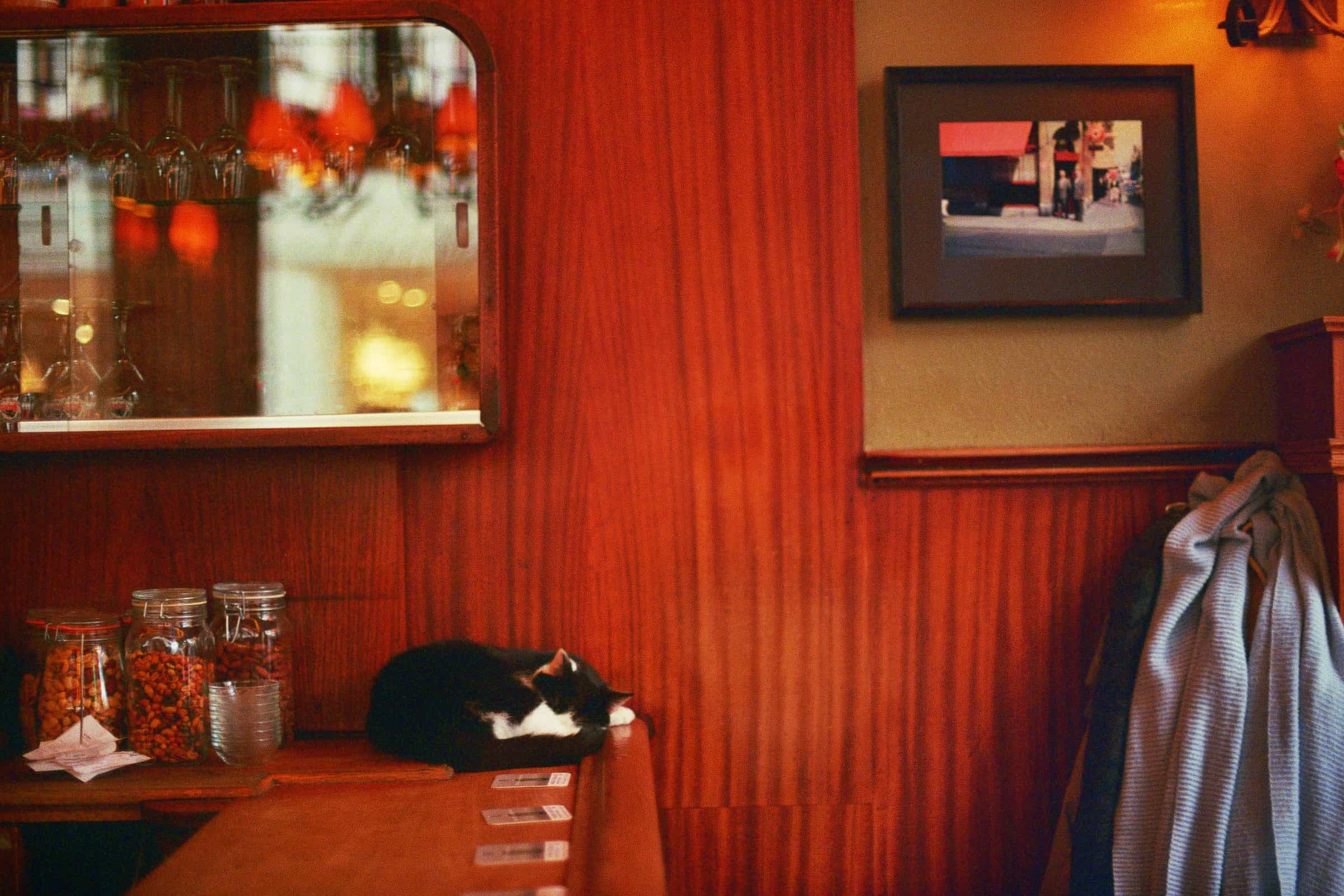 Photo: Amsterday by Nina Davis
What We're Listening To: Songs to Unwind To
The music team dives into what they have been listening to as THE SUMMER QUIETS DOWN.

By LILY CRANDALL & MUSIC TEAM

8.11.2021
After the excitement of the first few weeks of "
NYC's Summer of Hedonism
," many of us are feeling the exhaustion that comes from living every weekend like it could be the last before another year of isolation. At the end of the night, after the (way-more-expensive-than-it-used-to-be) Uber, after the snacks and you're finally in bed, it's time to wind down. Take a minute, breathe.
These are songs that we listen to on the drive home from a successful errand we'd been putting off, on the subway home after our social battery's run out, and on the day after we return home from a short, but tiring vacation, suitcase not yet unpacked by the door.
Here's what COPY music team members had to say about our favorite songs and albums to unwind to:
LILY
1.
"All the Same," Real Estate

It's easy to get lost in this one, it's got a sweeping, bouncy outro that's so calming and cozy you won't realize the song is over seven minutes long. I used to listen to this one walking home from class at the end of the day.

2. Mia Gargaret, Gia Margaret
This album is perfect for getting home after a long night and you're not quite tired yet, but know you need to get up early the next morning so you put something on to chill out a bit. Clocking in at just 27 minutes, it's the perfect wind-down soundtrack after a busy outing.
TAYLOR
1.
"Capturer," Frankie Broyles
While this is by no means the only song I've been playing on repeat this summer, it sort of feels that way—few things can hold my attention to the same degree. I am a very anxiety-prone person, but when I listen to "Capturer," the world starts to feel calm and cinematic no matter what I'm doing or what's on my mind.
2. "Suzanne," Leonard Cohen
I used to have to drive to high school at 6:35 AM (yuck). From some points along my route, I could see the ocean, and from others, I could see the skyscrapers of Downtown Los Angeles still lit up at dawn (amazing). I listened to "Suzanne" in my car almost every morning, and it made my solitary commute my favorite part of the day. I chugged cold brew coffee from a thermos and dreamed of "tea and oranges that come all the way from China."

3. "yr heart" - Hand Habits
This song feels like a meandering, heartfelt conversation in the living room after dinner at a friend's place. It's soft and hazy but holds a complex emotional depth. I love how Meg Duffy describes intangible experiences in such sensory, tactile ways: "I can feel you push your fingers through the fabric of all of my thoughts."

MIGUEL

1. "not a lot, just forever," Adrianne Lenker

Perfect for how I'm feeling as we simultaneously fly through August and wonder when it will all be over. It's perfect for looking out the window of the bus, whether you're heading to the countryside or waiting for a truck to stop blocking an intersection. Lenker weaves her voice and guitar and it makes perfect sense, and it makes me want to call my mom, though I'm not sure why.


2. "Bored Again!," Buddy Ross & Gabriel Delicious

I've always been one for the songs that demand you to lose yourself entirely, and this one continues to earn my full attention. It reminds me of when I would listen to Fireflies (Owl City) in middle school and forced myself to only listen to it once a day to preserve the feeling. That's how I feel about this one; cherish it every time and it will bring out that inner release.


3. "Secret Garden," Brian Culbertson

I was walking home the other day and someone was jamming to this on their stoop, and I had to ask for the title. The breakdown drew me in, but as I listened with the man, we appreciated the vocals and harmonies. There's something very August about this one, as we agree to move our hips ever so slightly through the humidity and nonsense of it all.

ADAM

1. "Fast Car," Jamila Woods

Every sultry singer on earth tries to cover this song. On YouTube alone I could find covers by Khalid, Justin Bieber and Sam Smith (not including about a thousand amateurs). Done to death and never done quite right. However, Jamila Woods has a voice like no other and I feel if Chapman could choose a cover closest to the original sonic intent it's this.

2. "Don't You Just Know It," Huey Piano Smith

I'm a big fan of nonsense in lyrics. Sometimes you just need a song that expresses itself in gibberish to get that exuberant point across. This song has a nice call and response to it that forces a smile. Gooba gooba.


3. "Rapp Snitch Knishes," MF DOOM ft. Mr. Fantastik
Gone too soon, MF DOOM is the perfect rapper for a nerd like me. Your MC's favorite MC, Adult Swim Legend, comic book lover, comedian, master sampler; it goes on and on. Only he makes a rap concept album all about food. Few funnier/catchier lines than "Rap snitches, telling all their business/Sit in the court and be their own star witness."
TESSA

1. "ROOF," Jessie Reyez

Jessie Reyez is great, full stop, but there's something about ROOF specifically that's almost addicting. Maybe it's the smooth trap beat, the beautiful depth of her vocals, or even the ease with which she raps. Regardless, this song is my end of day go-to.


2. "Lovelight," Cosmo's Midnight

Cosmo's Midnight's 2018 What Comes Next is full of solid tracks. I'd recommend the entire album if you're looking for a more cohesive listening experience. Lovelight sticks out to me in particular because of its funky ethereal nature. It's an instrumental made for vibing, so I suggest pairing it with a lava lamp and some good company.


3. "Pigalle," Captaine Roshi
I first heard Pigalle on Colors Studios. I sat, mesmerized as Captaine Roshi performed in an all-black fit, contrasting the goldenrod yellow of the set. His presence was commanding, both physically and musically. A Congolese-French rapper, Captaine Roshi consistently proves his versatility as a writer and performer. Pigalle is the perfect example of this: a relaxed, breezy track with solid lyrics and a sleek delivery.

MADELEINE
1. "Baked Bean," Okay Kaya
This is the perfect 7 AM home from the club, birds chirping song. Ambient, dreamy, echoing, Kaya Wilkins' croons over soft guitar, "I got away with words/Spilling beans I do not have." This lullaby can rock you to sleep, make you cry, make you smile and make you feel somehow thankful for the tears. And for the makeup you will wake up with under your eyes tomorrow.
2. "Lighters Up," Lil' Kim
Obviously, this song speaks for itself. And, obviously, the best line in the song is "I'm the hottest bitch on the planet/Biggest sex symbol since Janet." Walk down the street to it when you need a boost.

3. "Instant Disassembly," Parquet Courts
"Mamasita/Into pieces I fall/You did your heart no favors, darlin/When you taught me to crawl." Parquet Courts' garage rock sound combined with intricate, biting lyrics make this 2014 song pack a heavy punch. It's mysteriously satisfying, joyful and spiteful all at once. Great hangover song.

Let us know what you're listneing to below!